Happy Campers
As a mom it's always so much fun to watch your kids' interest evolve over the years. When planning their birthdays I pay attention to what they are currently obsessed with and then I run with it. This summer while we were out hiking on our National Parks vacation, my youngest mentioned to me that maybe he would like a National Parks themed birthday party. We brainstormed ideas for a while and had fun coming up with ways to incorporate our theme, but once we got back from our trip he decided maybe a camping theme would be better. I was pretty excited for his new suggestion because I think there are so many iconic ways to bring the camping vibe to a birthday party. For this party, I thought I would capitalize on the rustic woodsy trend with a hint of lumberjack thrown in for good measure!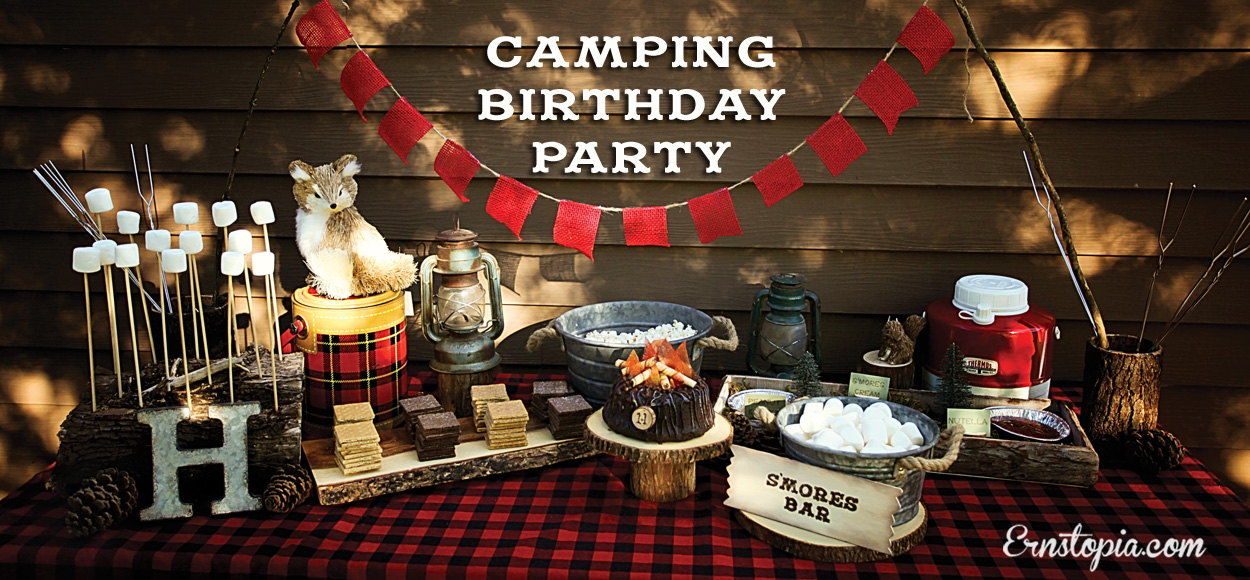 I already had a couple round wood-slice plates in two sizes and recently I added the long rectangular slab. I purchased these in the kitchen section of Marshall's/Home Goods. They are designed for serving food, so I didn't hesitate using them to display food in the s'mores bar I set up. You can also purchase unfinished wood slabs in the craft stores, but I'm not sure what steps need to be taken in order to make them food safe. I looked all over for an inexpensive wood slab cake plate and I found one for $30 at World Market, but rather than spending money on a new cake plate, I actually just made my own by setting the small wood slice I already had onto a smaller "stump" of wood. This actually worked beautifully and you would never know that it wasn't really attached! The marshmallow skewer stand was created by drilling small holes into a log we had in our yard after we cut down a tree.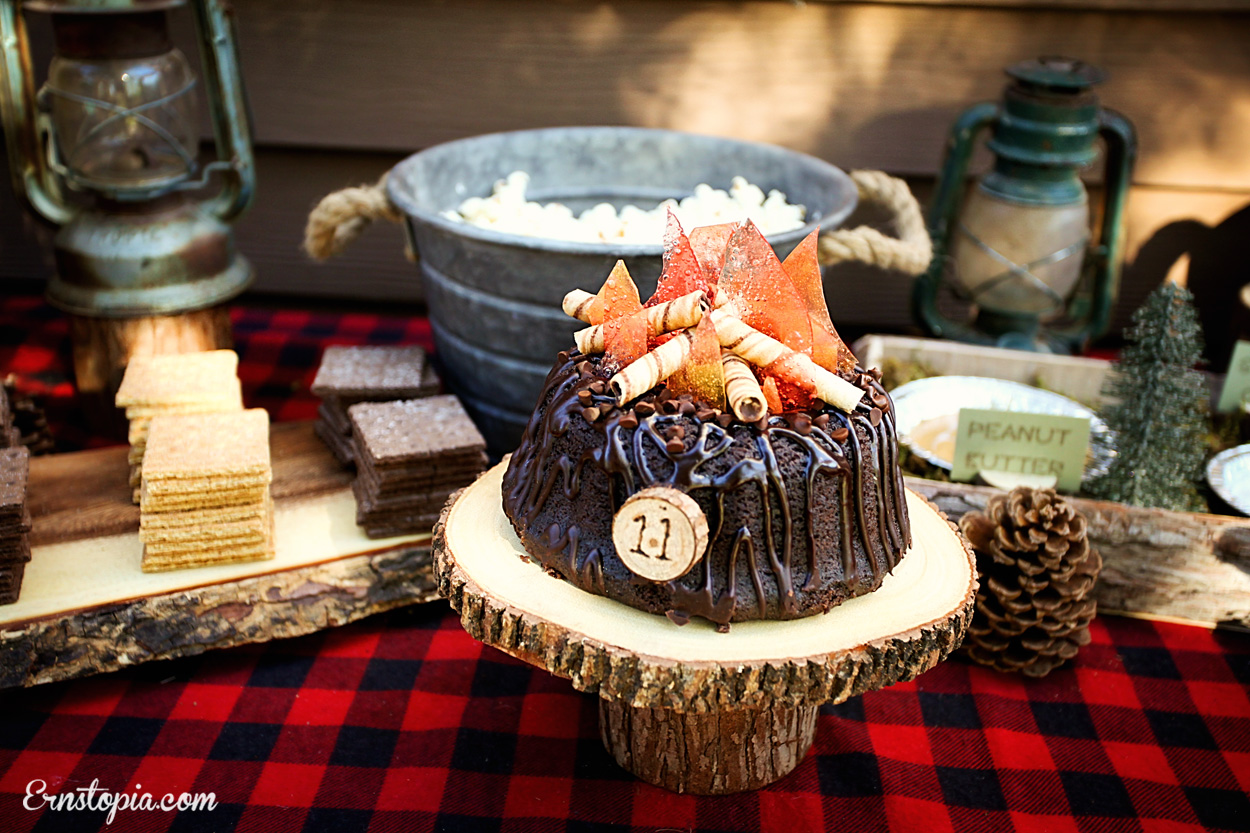 The cake kind of came together at the last minute, but sometimes the best ideas happen when you are pressed for time. At first I thought I would just make cupcakes and top them with miniature trees or tents or some kind of homemade cupcake topper. However, I was unable to find any pre-made trees in the stores and completely ran out of time to create something. Knowing I wouldn't have time to make cupcakes AND clean up the mess, I opted to purchase them from a bakery. As luck would have it, I found this small chocolate bundt cake and it was the perfect size. I dressed it up a little with gananche, but still had no idea what to do to the top of the cake. I looked in my extensive stash of scrapbooking supplies for any possible camping related items and came up empty handed. I thought folding a simple piece of paper to look like a tent would be an easy solution, but it looked really lame. I tried drawing out a pattern for making paper flames for the top, but that was a disaster too. So with two hours before the party I drove my crazy self to the Dollar Tree for a canister of Pirouette Chocolate Hazelnut Filled Wafers and some hard candy. Thanks to the show Chopped, I knew that I could melt down hard candy to form a flat surface for garnishing.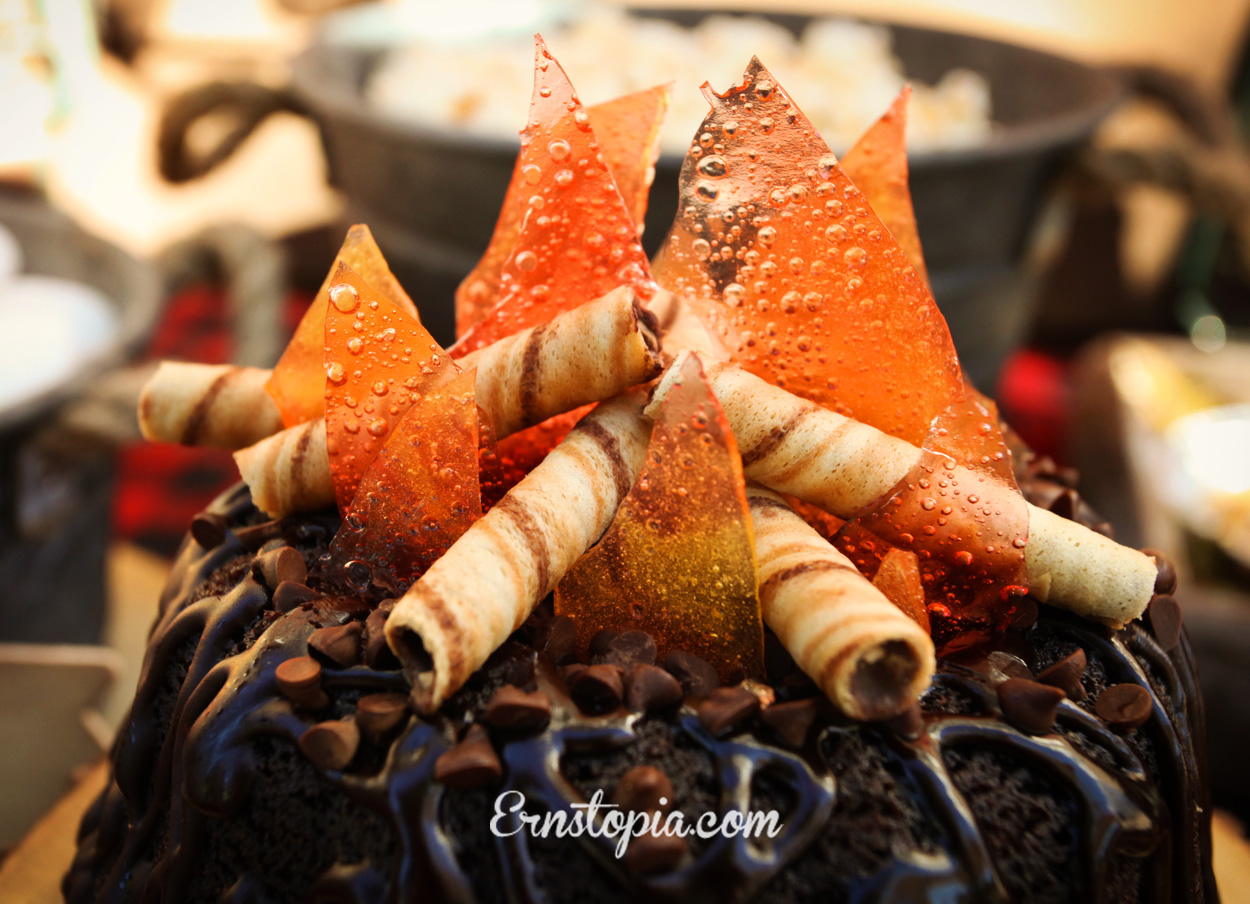 I put watermelon Jolly Ranchers and butterscotch hard candies onto a parchment lined cookie sheet and placed in a 375 degree oven for about 10 minutes. The whole time I was crossing my fingers because this was my last good idea! To my amazement, when I pulled the cookie sheet out, there was a puddle of melted candy!! It worked! Next I took a skewer and swirled the two different colors together to make them appear more flame like. I tried to keep the yellow towards to bottom and blend up towards the orange-red candy. Once it cooled, about 10 minutes later, I was able to break into triangular pieces. At this point I called for backup. Since I had a million other things to do, I had my husband design how the flames would fit in between the wafer cookies. I trust his eye for detail and I think he did a great job!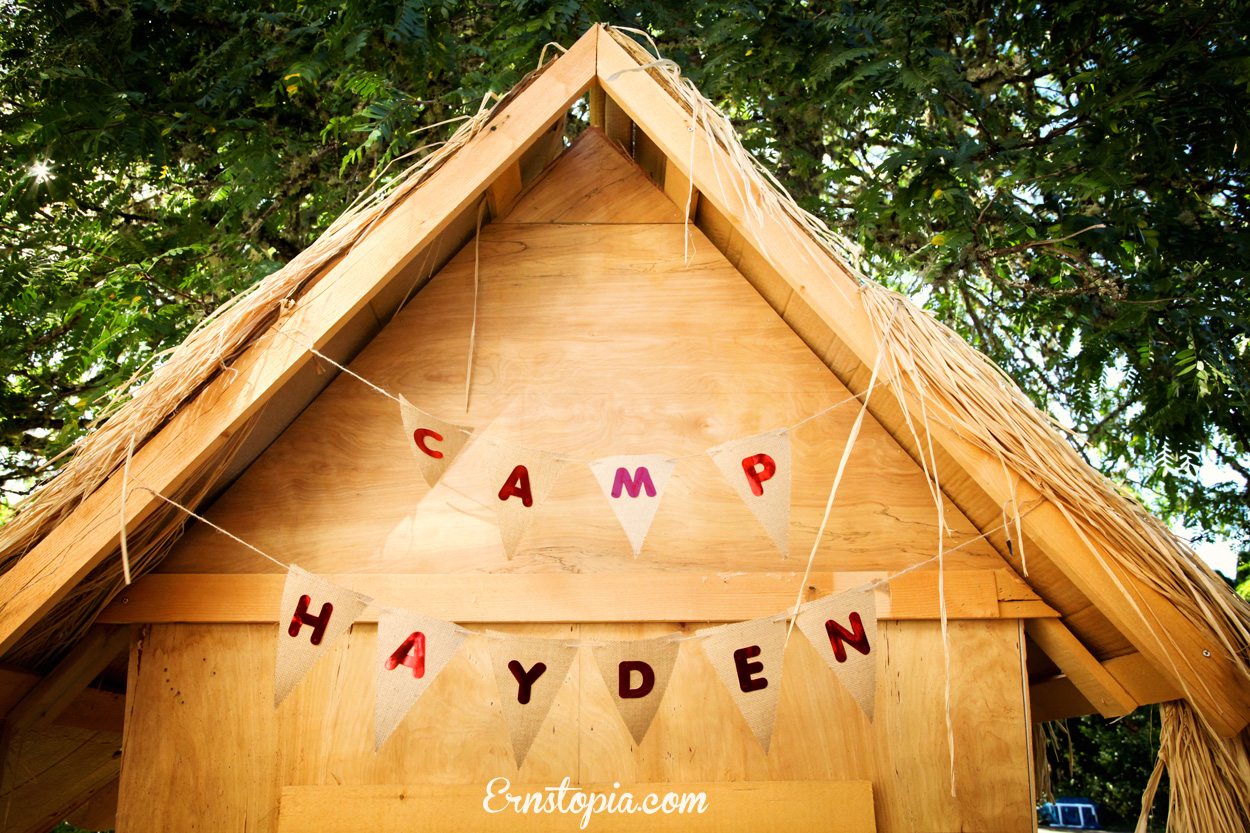 I knew all the boys were going to be hungry coming off the school bus after a long day at school, so I repurposed this Surf Shack into our official Camp Hayden Snack Shack where all the party guests could create their own trail mix.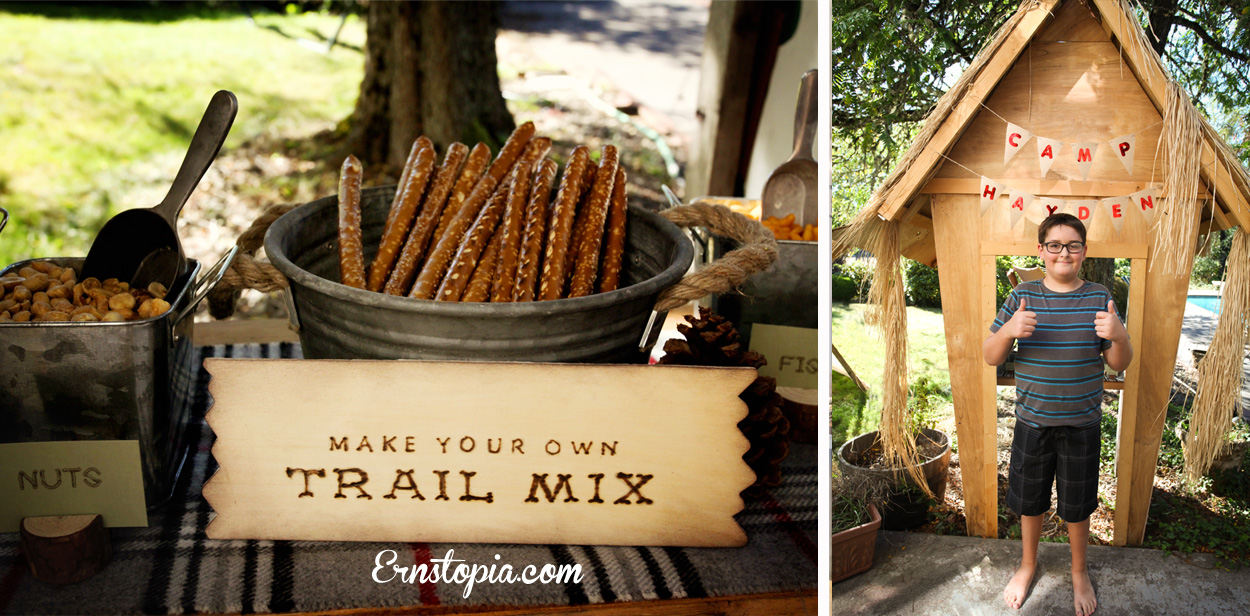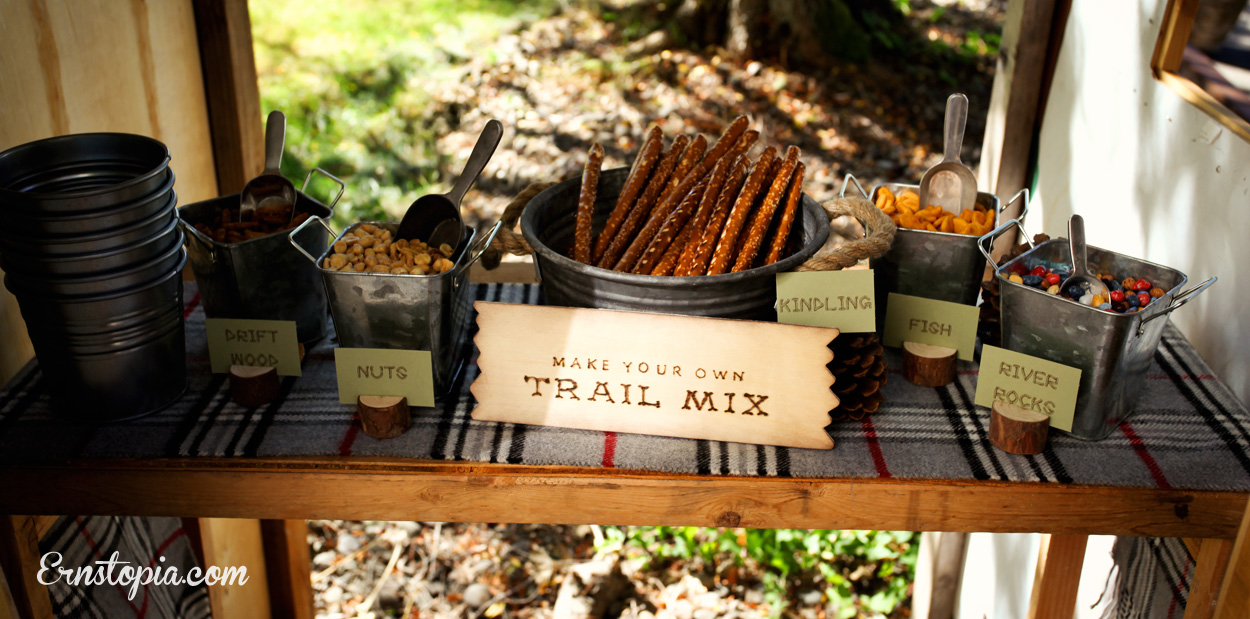 I created clever names for all the ingredients: drift wood = sesame sticks, nuts = peanuts (okay so this one isn't really clever at all!), kindling = pretzels, fish = goldfish crackers and river rocks = chocolate rock candy. The place card holders are made of small wood rounds. I even went to the trouble of choosing a font that resembles wood shaped like letters, a detail that I'm sure no one but myself noticed. None the less, it was gratifying to add extra nerdy details just for my own amusement!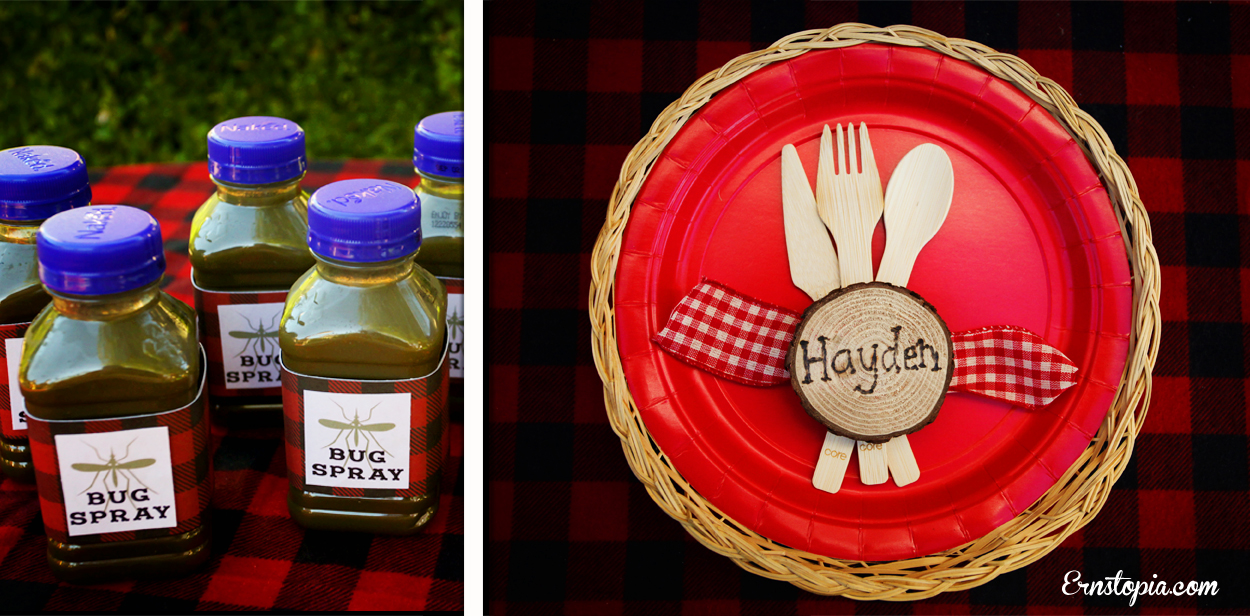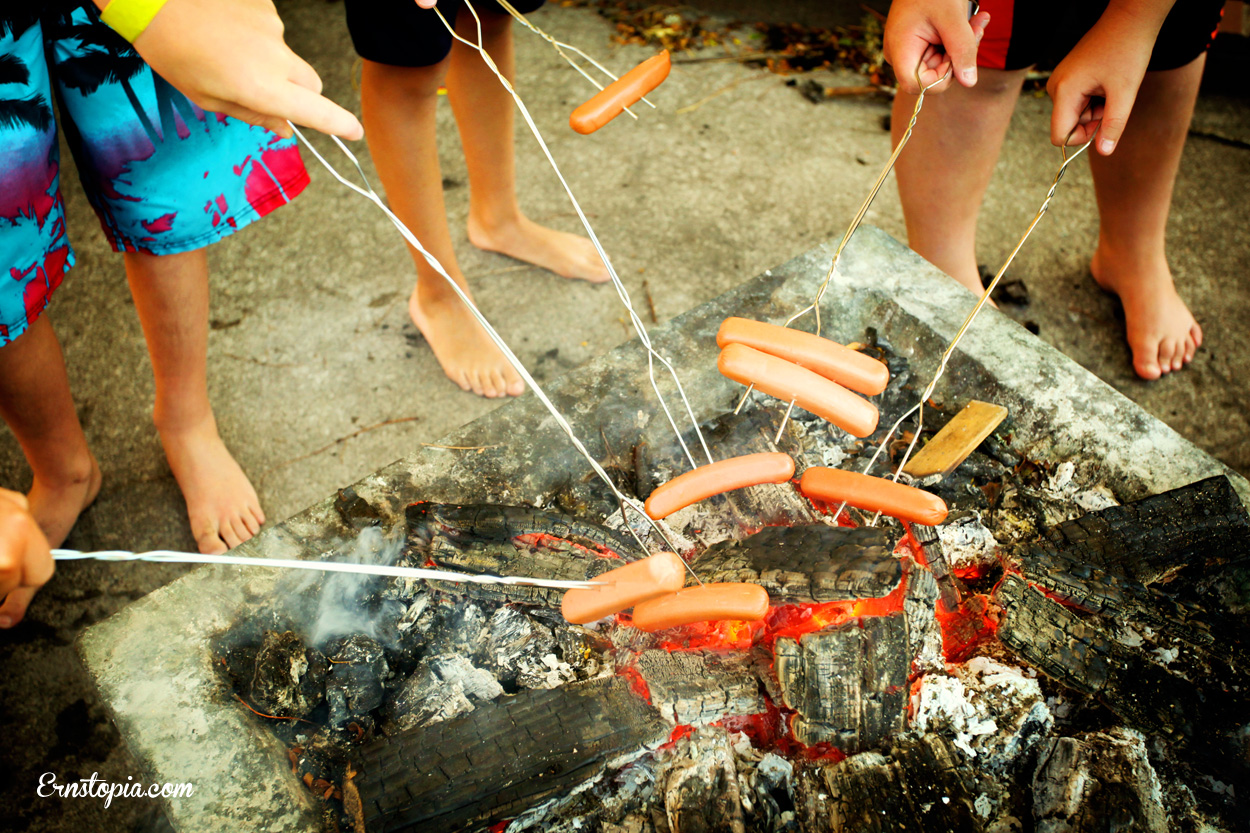 It wouldn't be a campout party without a campfire cookout! The boys roasted their own hot dogs and washed them down with "Bug Juice" AKA Naked Juice Green Machine. Yeah, they totally consumed broccoli, spinach, wheat grass, and spirulina and enjoyed every last drop!! Parenting win!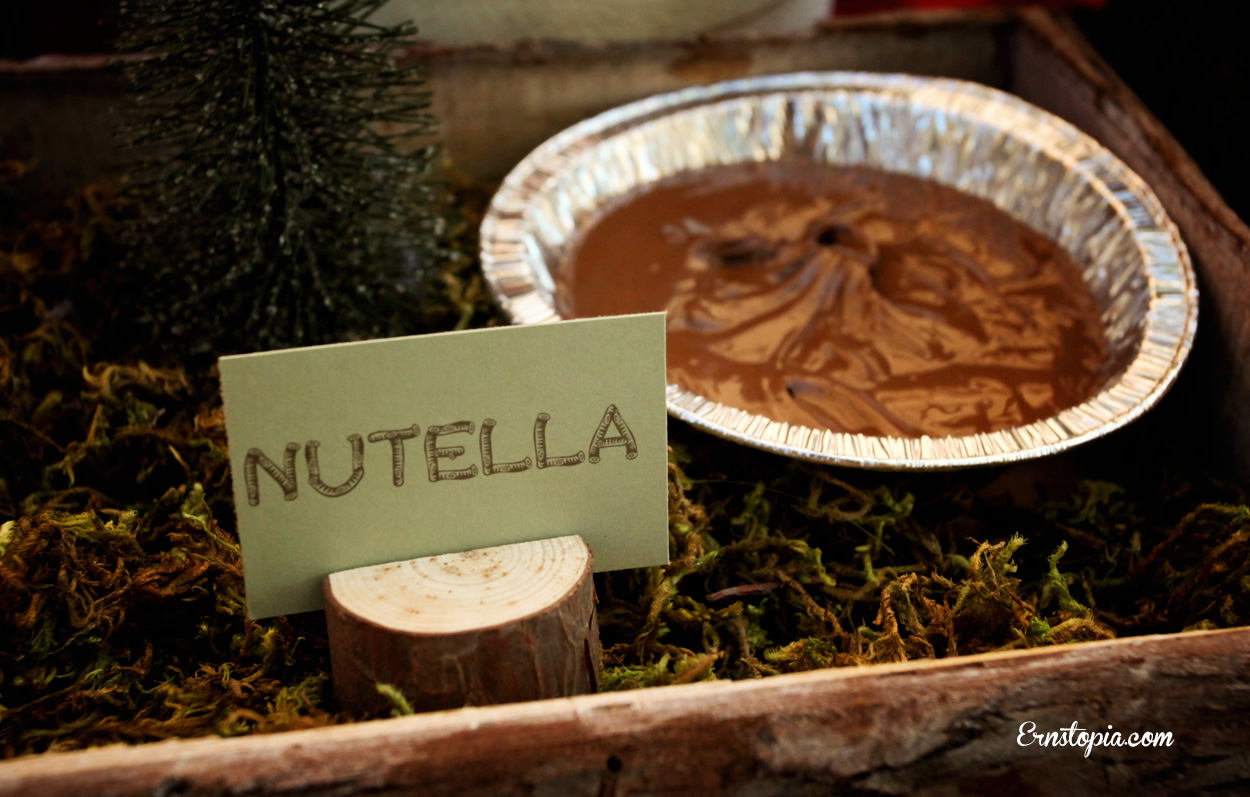 After the sun went down the boys roasted marshmallows and made s'mores. The s'mores bar was a hit…specifically the Nutella part of the s'mores bar. If you haven't tried Nutella in lieu of a Hershey's bar, then you haven't really haven't been living the good life. I highly recommend it!
This was a great party and I love that I can use all of the decor next time we have a group over to swim and roast s'mores!