Fireplace Face Lift: Finding the perfect mantle surround
About a year ago we pulled out our free-standing gas fireplace and replaced it with a gas insert. You can see the progress here. Since then, so let's say 13 months later, our family room wall still looks like the picture below. For the first little while it didn't bother me. I was just glad to have our insert installed, but now that we are over a year and nothing has been done I decided to head on over to Pinterest to get the ball rolling again.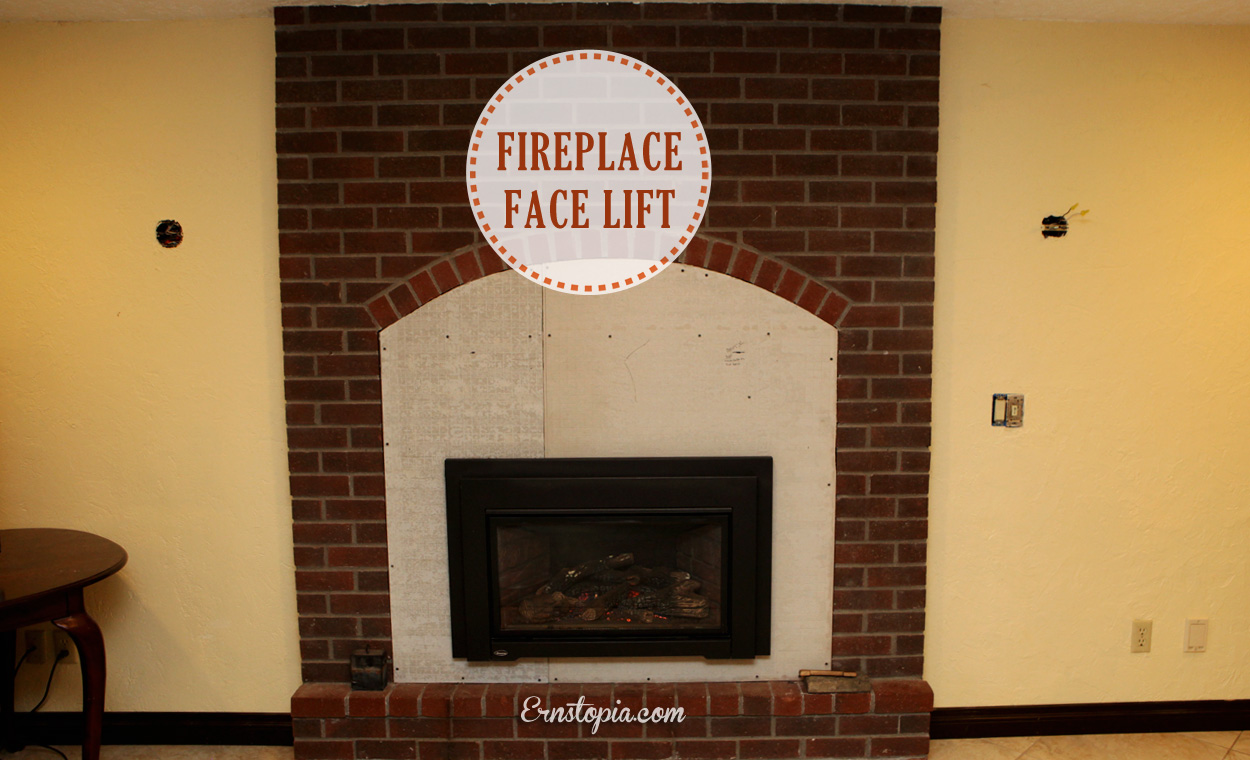 Let's face it, there is no shortage for ideas on Pinterest. Lots of ideas. Oh so many ideas. A girl could spend hours, dare I say days scheming and planning and dreaming on Pinterst. And that's pretty much what I did…well, spread over a year, so I guess it wasn't THAT bad, right? Anyway, with ideas in hand I tried to figure out how to make the ideas on my Pinterest board translate into my family room. As you know I'm not one for simple or plain. I like a little…okay a lot of details in my decor. I looked online at Home Depot and Lowe's and found my ultimate 'money-is-no-object' dream mantle, all french and elegant and such. Take a look, see for yourself: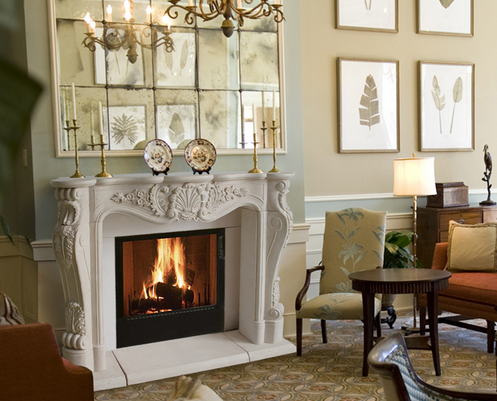 Pretty fancy, no? YES! Just the way I like it. I was so excited, I mean all that carved detail, shell applique, scrolls. Definitely drool worthy, no doubt. But alas, my enthusiasm was greeted with reality when Dan made it crystal clear that he was not interested in spending $2,170.91 on the fireplace mantle. Honestly, neither was I. That's a lot of money. I found similar styles for less, but they were still in the neighborhood of $975, which for us, is still too much.
I figured we could make our own custom surround with molding and trim and I could design it just how I like it with corbels and appliques galore…Then one day as I was perusing Craig's List, on a whim I searched for fireplace surrounds and this pops up: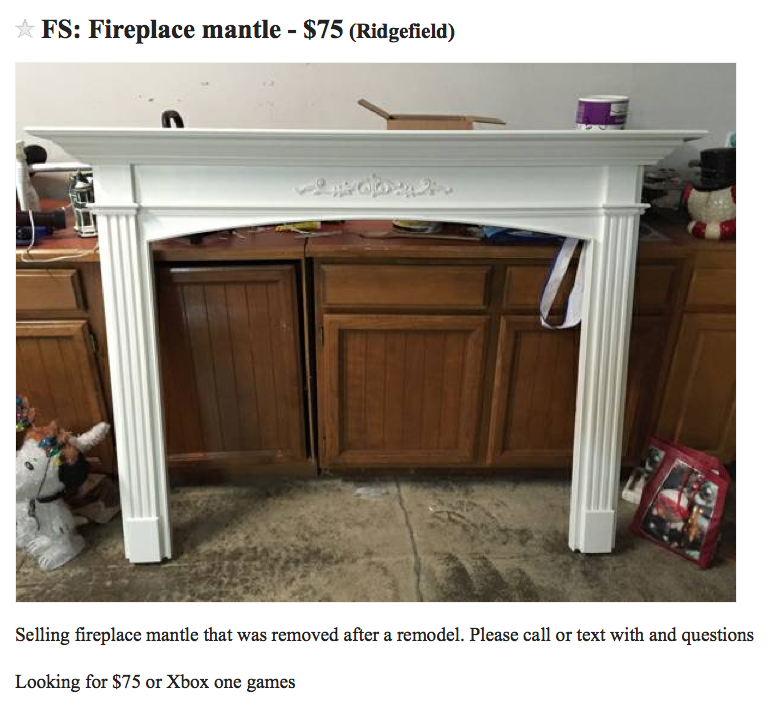 Not over-the-top fancy, but more my style than most other surrounds I found on Craig's List…and…wait for it…It was only $75!!! Seventy-five dollars and I wouldn't have to order anything online and try to make it work. This was already done and offered at a great price. Just to make sure, I googled and came up with similar fireplace surrounds sold brand new for between $400-$500. I think we have a winner! When I texted the seller I got him to come down to $60, so that's an over all savings of $440!
According to Pinterest, I can fancify it up a little by adding some trim to the top portion of the wall like this beautiful fireplace seen here: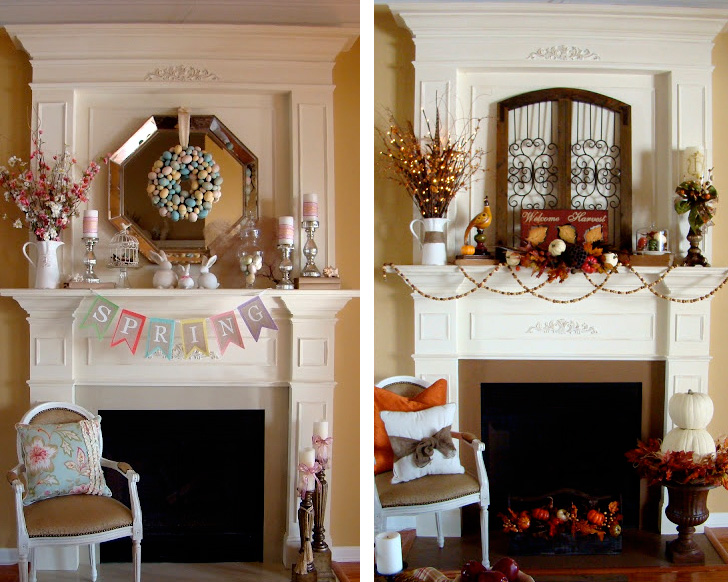 Right now, as I type this, my husband is driving the hour or so it takes to go and pick up our new fireplace surround. I am one excited girl right now! To be continued…

**Update** It's here!! Here is the new fireplace surround in place. We still have to put up dry wall over the brick and paint, but this is a rough idea of how it will look!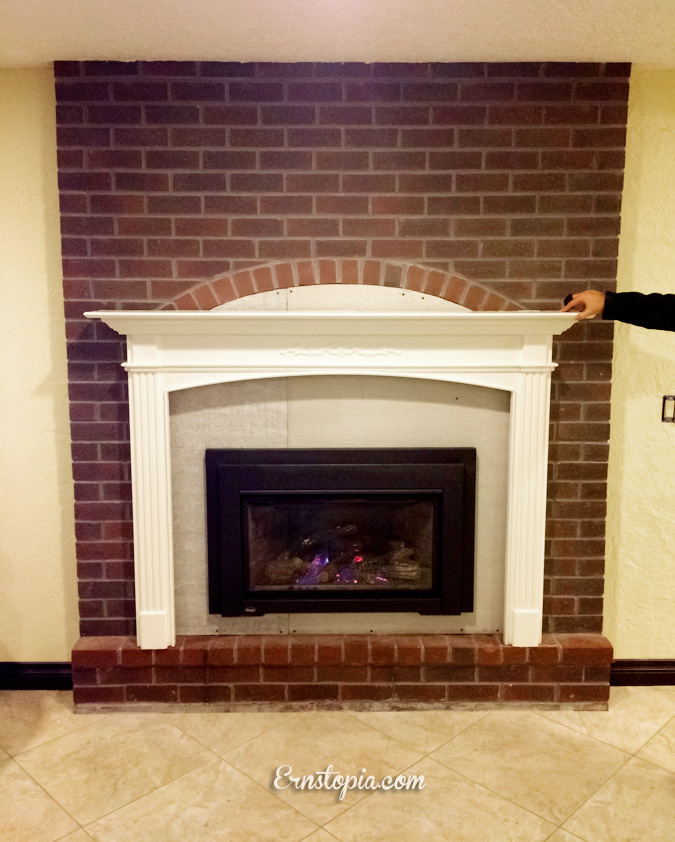 What do you think? Feel free to leave comments below.