How to Get Free Wood Chips Delivered to Your Home
Gardening season is in full swing, so I thought I would share a tip that saved me a bundle in the garden this year: Wood chips…for FREE!
The tree trimming services create wood chips as a bi-product of their business and will gladly deliver it to your home if you make arrangements in advance. Be prepared though, you will end up with an entire truck load of wood chips. It's all or nothing baby! This organic material is wonderful for gardening because over time, it will enrich your soil with nutrients. For my garden I plan to use it to create paths in between the raised beds in an effort to keep the weeds at bay.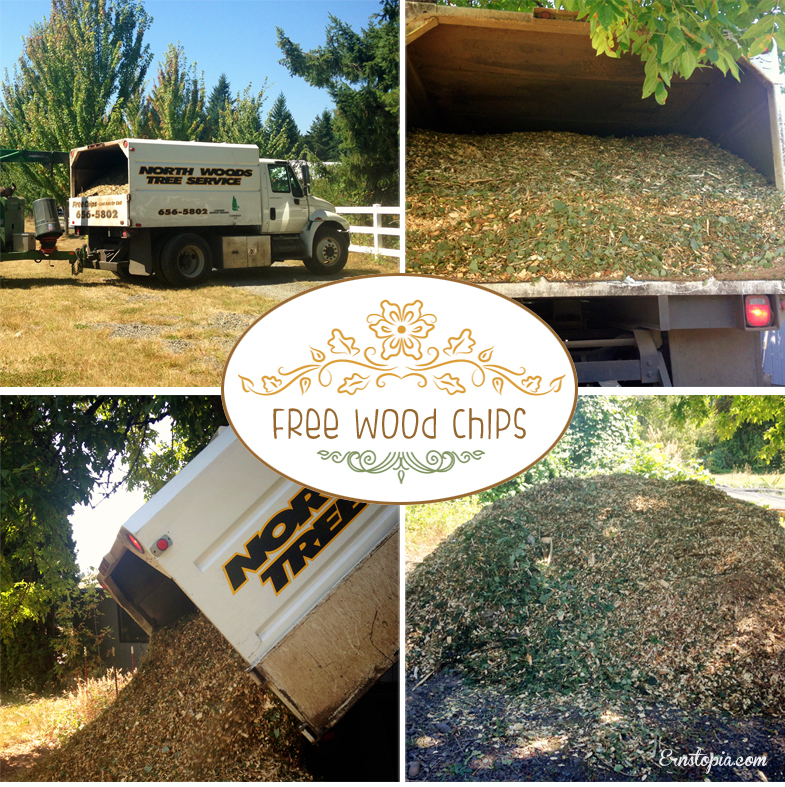 Uses for Wood Chips
1. Mulch
Wood chips are beneficial to your plants because they help them retain water and stay warm. They also reduce the growth of weeds in garden beds, making it easier for you to maintain them.
2. Composting material
Wood chips contain carbon, so they're great choice for adding to the soil. When you add them to your compost as a "brown" layer, they'll work to break down and enrich the dirt, making it that much more nutritious for the plants you spread it on.
3. Walkways (this is how I'm using my wood chips)
Wood chips are a popular choice for walkways and paths because they even out the ground and help suppress weeds in the garden areas. Before you create a wood chip walkway, lay down a weed barrier to increase its lifetime.
Not Ideal Playground ground cover
A word of caution, although most playgrounds do use wood chips under the playground equipment, the quality of wood chips that you get from the arborists is not ideal for this type of environment because the wood is often more course and splintery which can lead to slivers.

To schedule a load of wood chips to be delivered to your home, you must contact your local arborist to find out when they will be managing trees in your area. Most of the time they are more than happy to unload the wood chips at the end of the day. One of the bigger tree pruning contractors in our area is Asplundh. Ask the crew working in your area about availability or contact your local Asplundh office for more details. When I did my calling, Asplundh had already completed work in our area months ago, so I decided to call around to other smaller operations. It took some calling around before I found someone, but just look at all the wood chips just waiting to line my garden paths!