This year my son turned 12 and requested a dog themed birthday party…how fun is that! As usual everything seemed to come together for a fun party that was enjoyed by all our guests. One of the main ideas was to serve food in doggie bowls that actually looked like food a dog would eat. This created so many funny moments as the boys devoured their treats.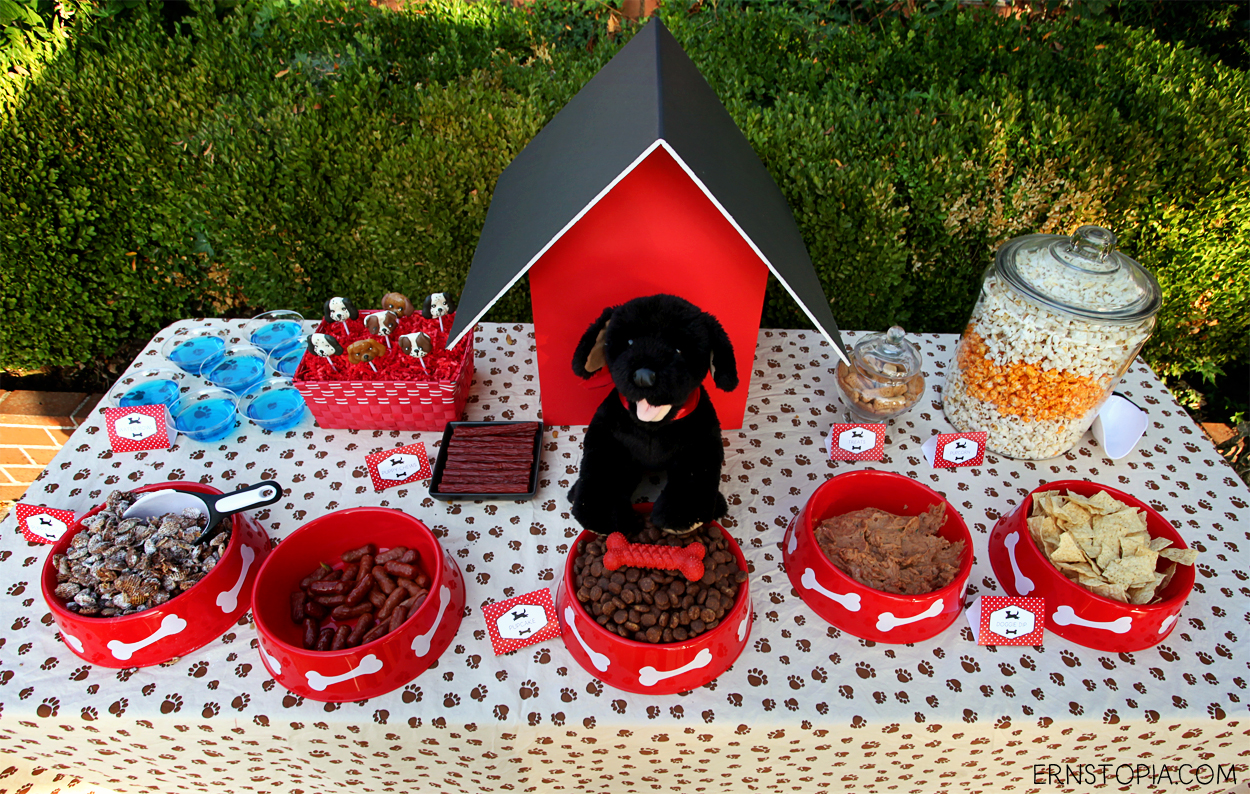 Here is a "ruff" idea of what we served our guests when they arrived at the Dog Party:
Dog Water Bowls (made with blue Jello)
Dog Chow (recipe here)
Mini Hot Dogs
Dog Pound Lollipops (Oriental Trading Co)
Puppy Chews (Pepperoni Sticks)
Dog Food Kibble Cake (brownies and cereal)
Doggie Dip (Refried Beans and Chips)
Treats (Scooby Doo Graham Crackers)
PupCorn (Salted and Cheese Popcorn)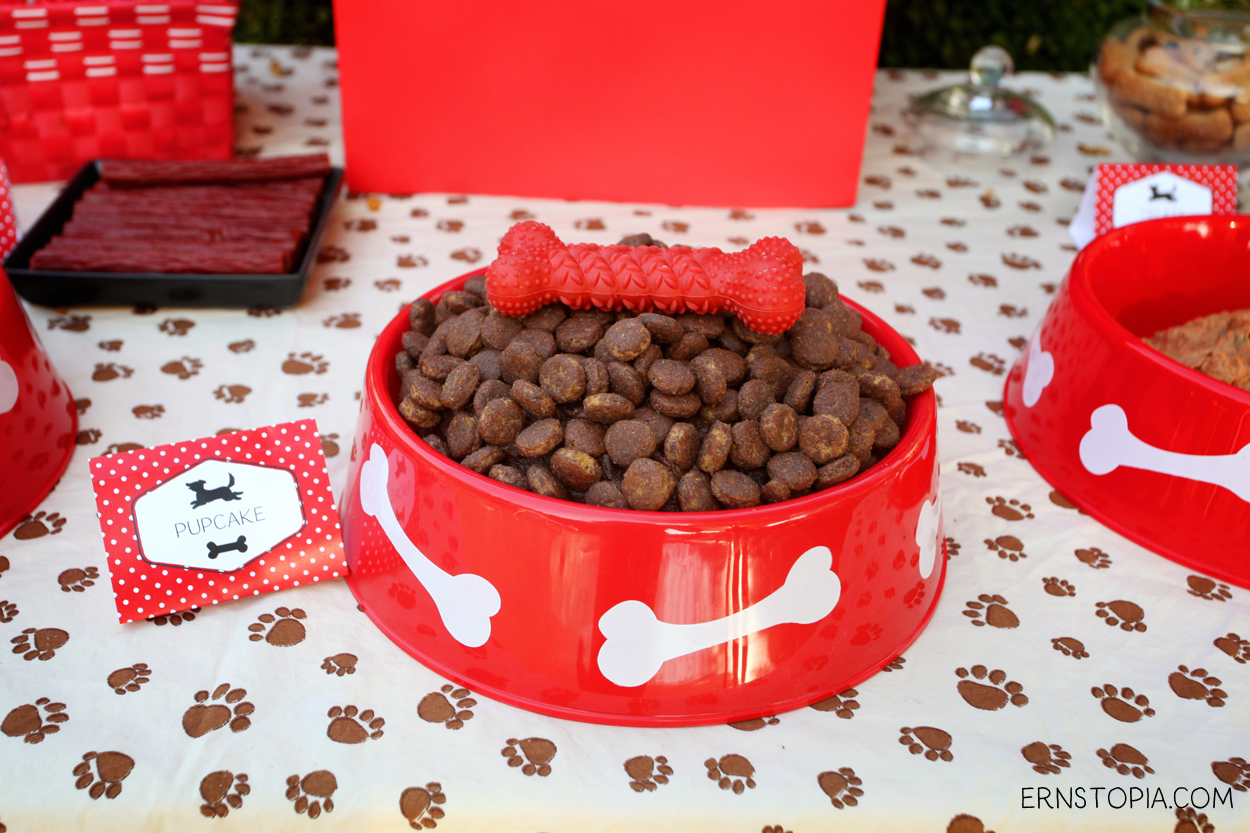 The cake (yes, that's actually a cake) was made with two brownie mixes, baked in a stainless steel mixing bowl and turned out into this dog bowl I purchased from the Dollar Tree. After it cooled, I covered it with chocolate frosting and then coated the top of the cake with Girl Scout Thin Mint cereal I found at the grocery store. I'm not sure if this is a limited edition or seasonal cereal, but it looks just like dog food (don't tell General Mills I said so!) Originally, I was planning to get Coco Puffs, but when I saw the Thin Mint Cereal, I knew it was the better choice!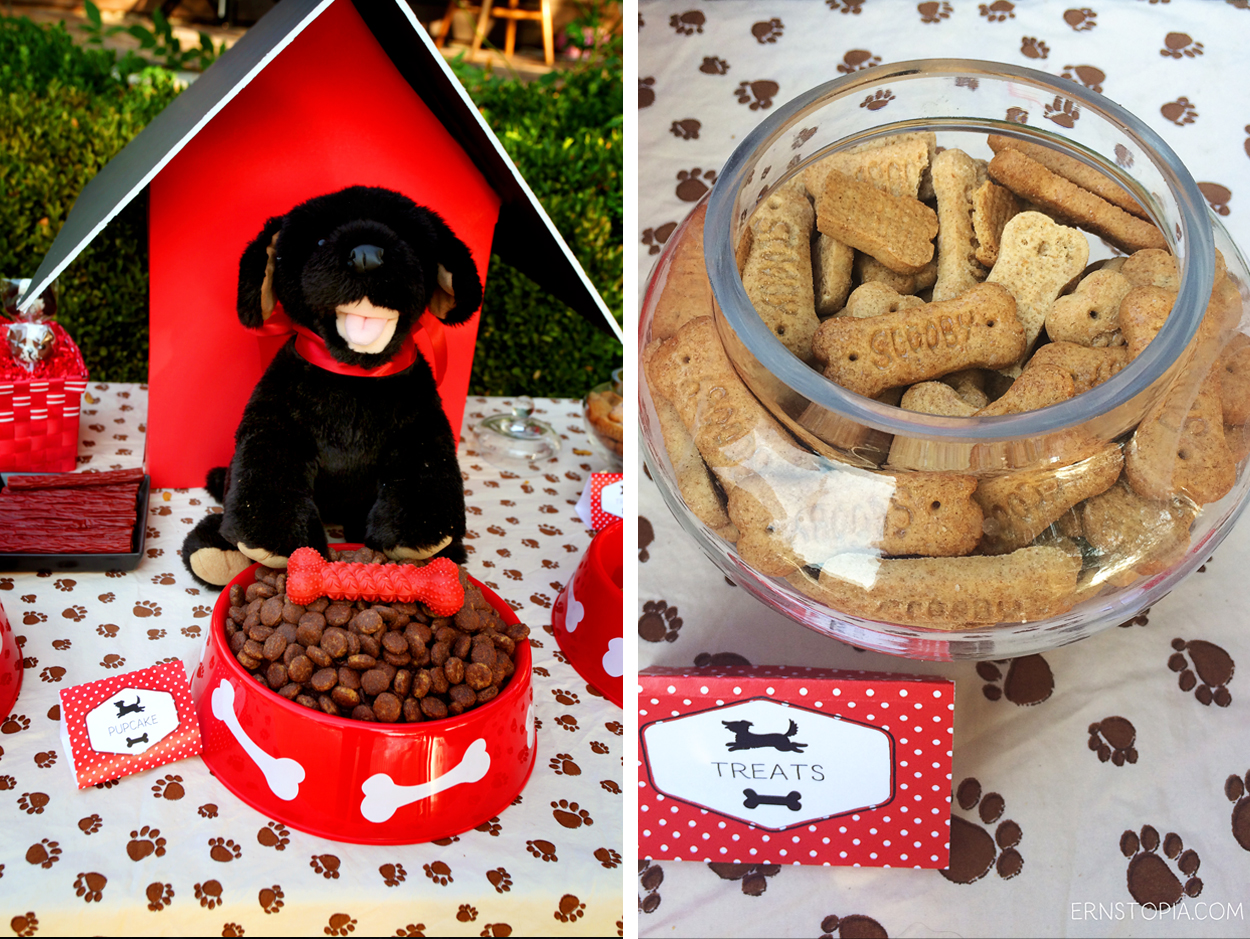 This black lab from Build-a-Bear has been stashed away in the attic for a number of years, but I was happy he was able to make an appearance at our Dog Party! The dog house I made from an old shipping box, red tag board and black foam core board I purchased from the Dollar Tree. Total cost for the dog house was just $3.07. I love these Scooby dog bone shaped graham crackers. I found them on Amazon in snack sized packages and also a box of the cinnamon Scooby graham crackers at our local WINCO.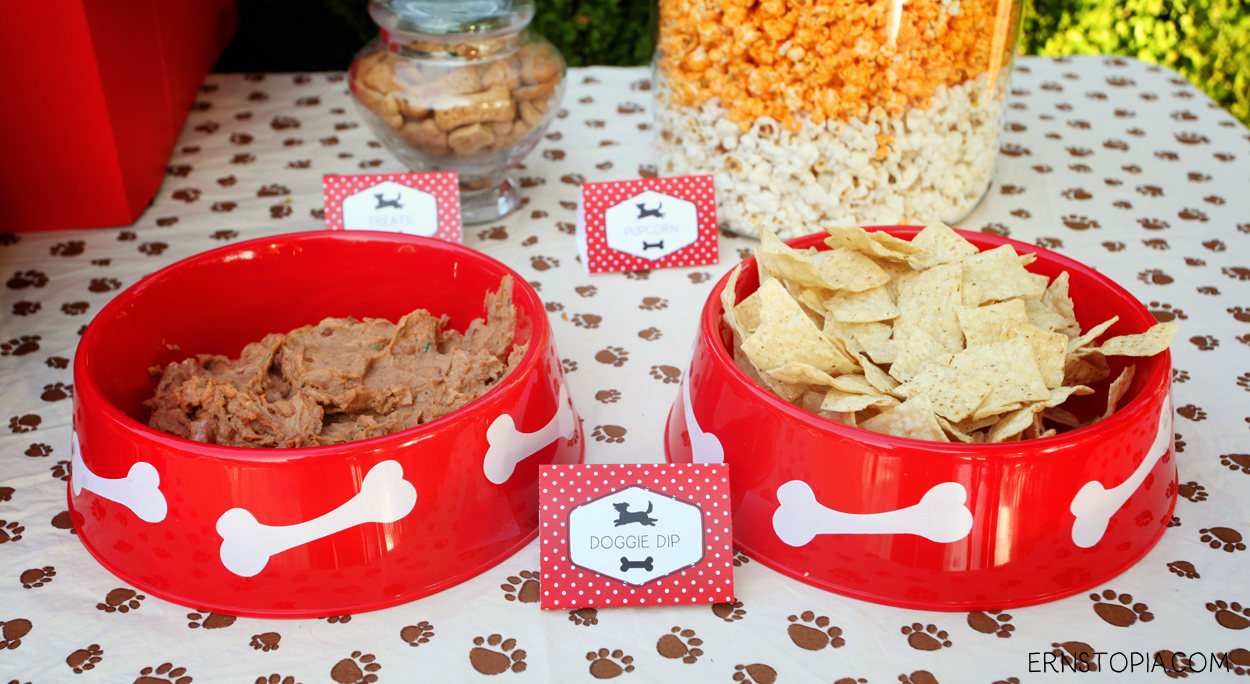 Who among us hasn't eaten refied beans and thought, this looks way too much like wet dog food? I added taco seasonings to give it a little more flavor and it worked perfectly as a bean dip paired with a bowl of tortilla chips.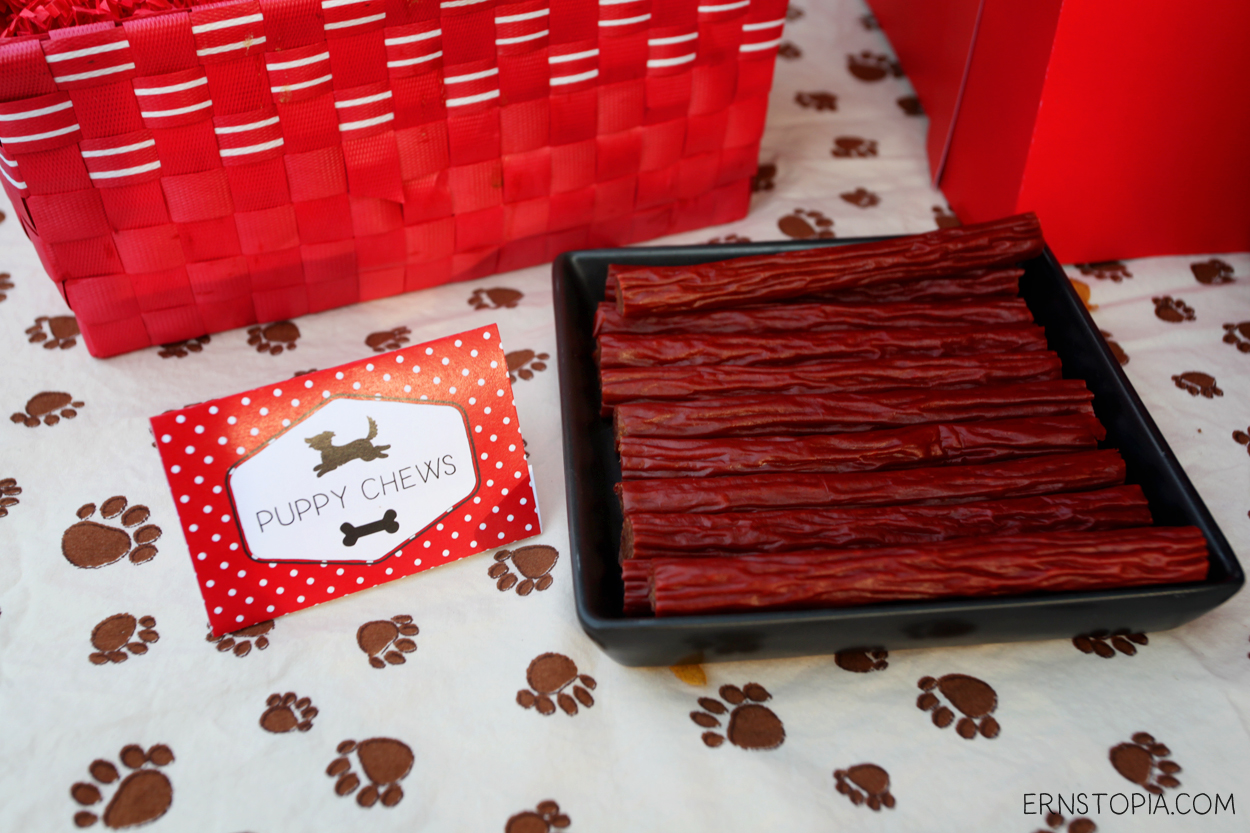 These Puppy Chews pepperoni sticks were a big hit with the boys. Do pepperoni sticks look like dog chews or do dog chews look like pepperoni sticks? Either way, tasty!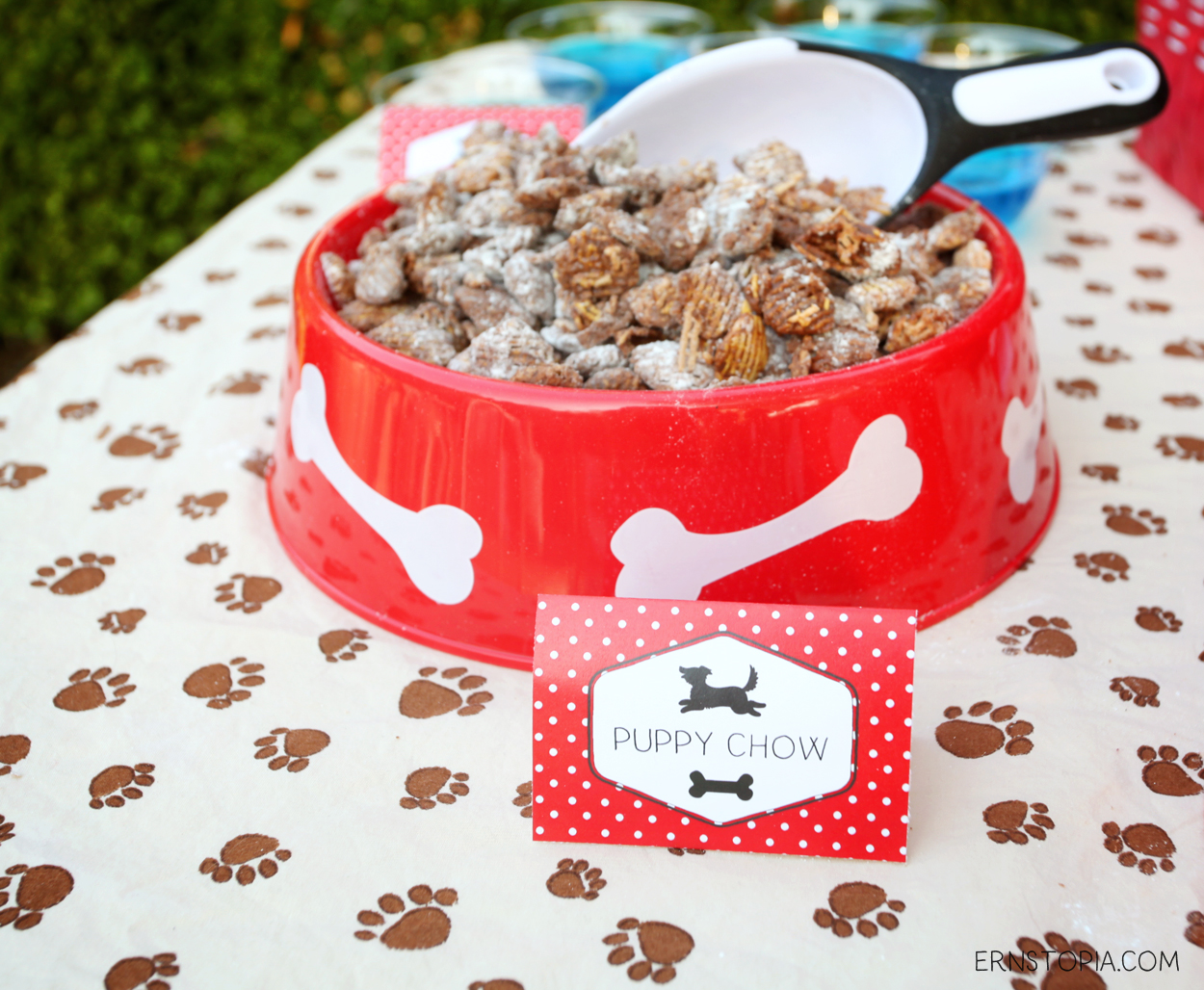 I discovered this Puppy Chow recipe years ago when I was first married and all my friends were into hosting in-home direct sales parties (think Pampered Chef etc). One of my friends made this puppy chow recipe and I couldn't keep my hands out of the bowl…it's like crack (not that I would know). I rarely make this recipe because it's so hard to resist, but for special occasions it's a great sweet peanutbuttery treat.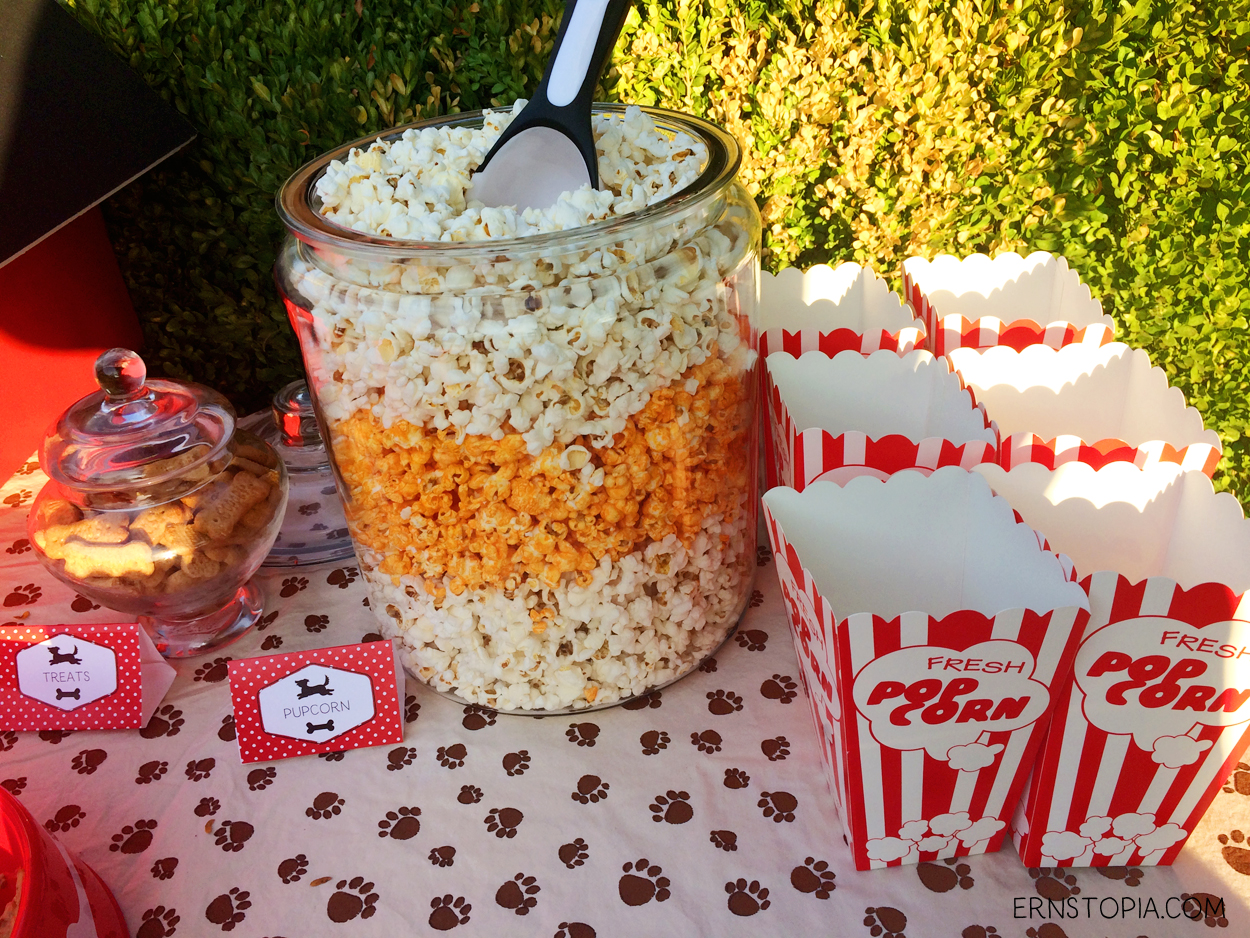 PupCorn…This is my other weakness! CHEESY popcorn! Yum! No explanation needed, it's just good!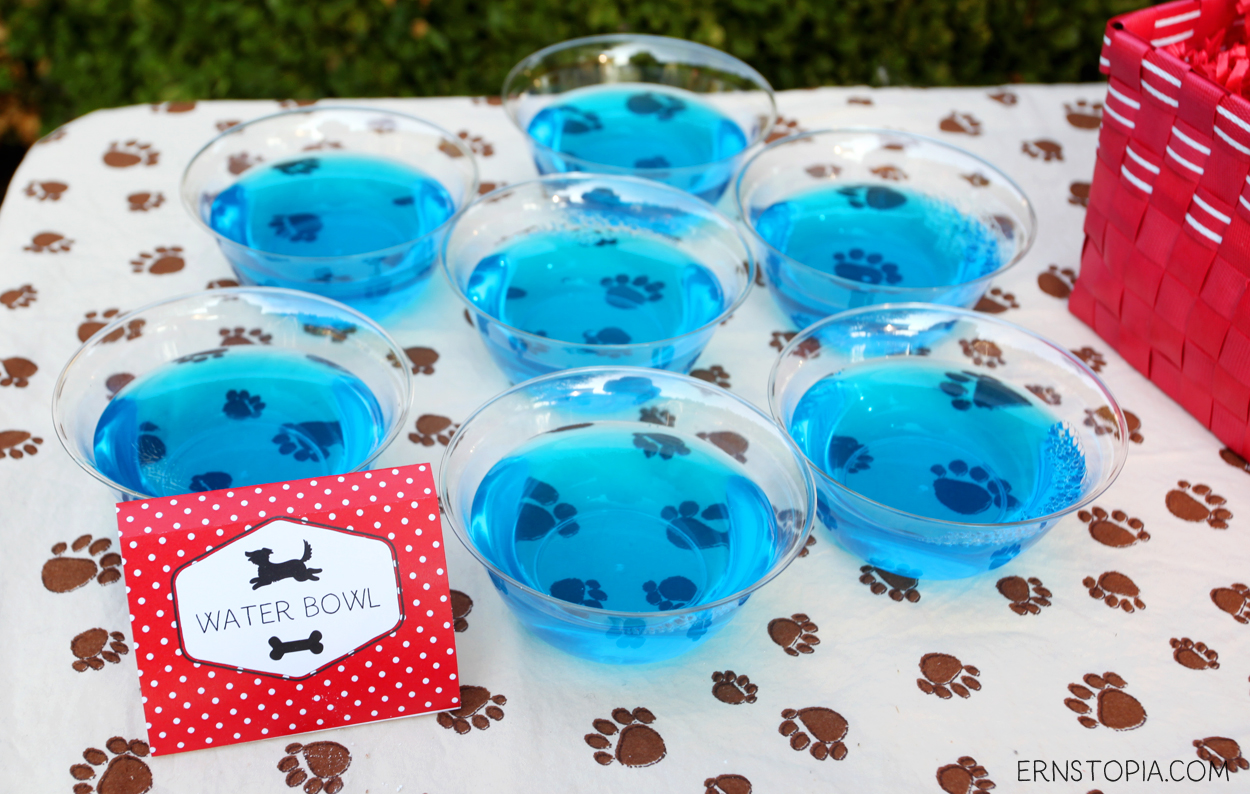 These water bowls inspired the boys to "lick" the Jello instead of using a spoon, you know, like how dogs lick water! It may have gotten out of hand…a little! (okay a lot!)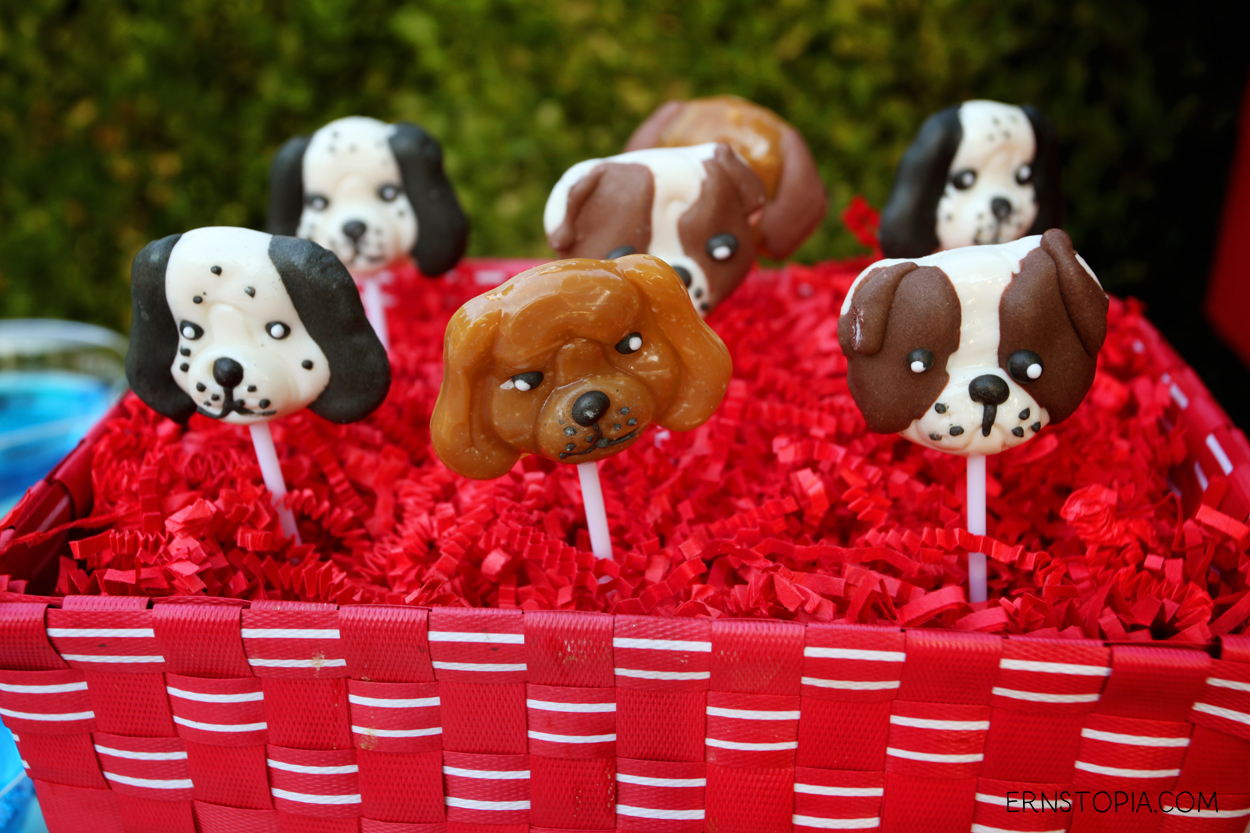 These Dog Lollipops came from Oriental Trading Company and were part of the goodies I added to their Doggie Bag for them to take home at the end of the party.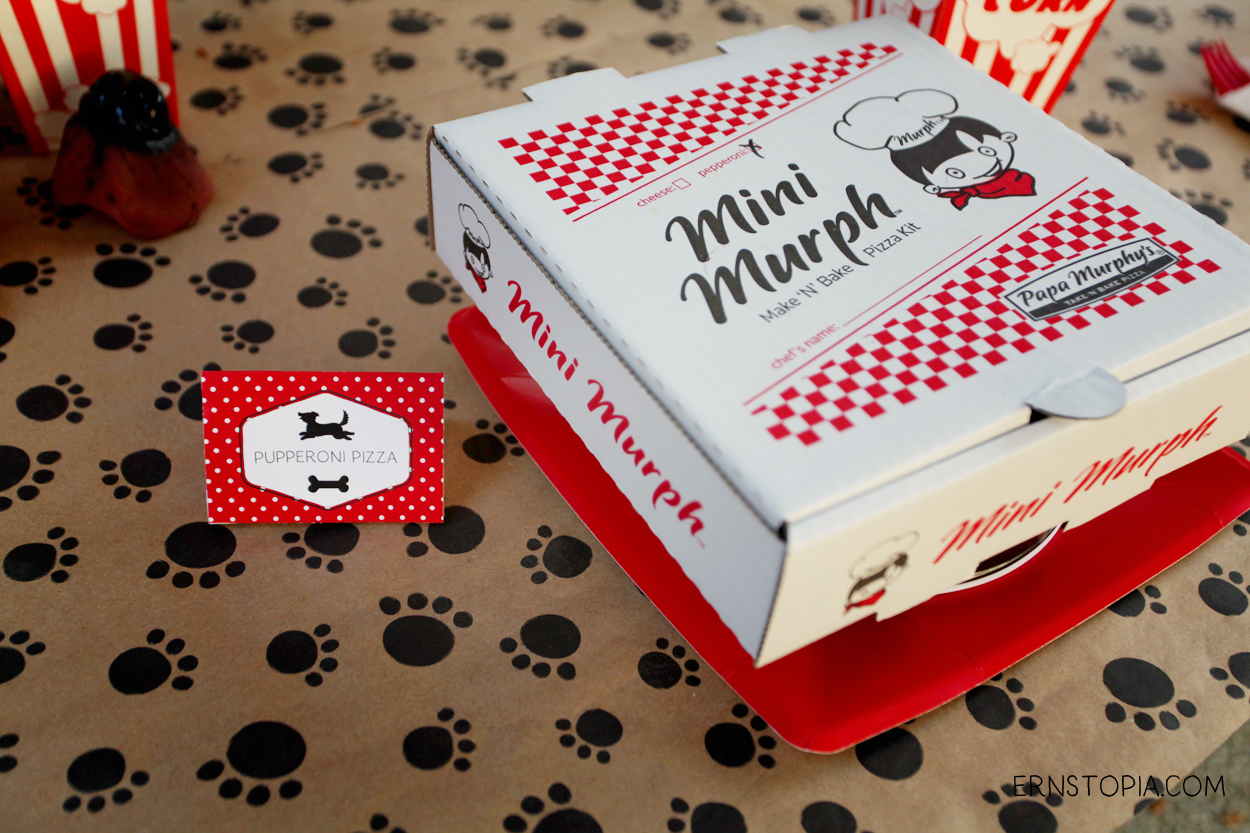 My birthday boy requested Mini "Pupperoni" Pizzas from Papa Murphy's and all the guests enjoyed creating their own customized pizza for dinner.
The Breakdown
Each place setting at the party table included a Dog Nose Mask from Oriental Trading and a small dog bowl used to serve dessert. When it was time for cake and ice cream, I dished each serving into a separate dog bowl and placed them all on the floor. When the boys saw their bowls lined up on the floor, they didn't even hesitate to dig right in, face first and everything. No silverware for these pups! It was very entertaining watching them slowly get their faces covered in cake and ice cream!
I hope these ideas inspire you to host a dog party of your own!


Dollar Tree Party Finds
I was able to find almost all of the party decor and some of the food at my local Dollar Tree! Here is the breakdown of everything I purchased at the Dollar Tree for this dog party:
Small Clear Bowls
Large Scoops (x2)
Large Red Dog Dishes (x5)
Red Basket
Red Basket Filler (x3)
Floral foam (x2) hidden underneath the basket filler
Dog Bone Toy (this toy is not from Dollar Tree, but you can find them at the Dollar Tree, just not in the color red)
Black Foam Core
Red Tag Board (x3 @ .69)
Bags of Popcorn (x3)
Brownie Mix (x2)
Bag of Tortilla Chips
Paw Print Gift Wrap
Red Square Plates
White Napkins
Red Plastic Silverware
Small Dog Bowls (x7)
Package of Small Red Gift Bags (x3)
_______
$38.07 = Total Dollar Tree Purchases

*(I'm not affiliated with the Dollar Tree, nor do I receive any payment for mentioning any items on this post)