Healthy Snacks to Pack for Your Next Road Trip, Hike or Flight
In order to save money and time while keeping good nutrition in mind, we try our best not to rely on fast food when traveling from place to place. (Exceptions are always made if we pass by an In-and-Out Burger which is still a novelty for us in the Pacific NW!) When we are planning a day trip to a National Park we don't generally pack a big lunch. Instead we bring lots of healthy snacks to sustain us in the car as well as on hikes. These snack suggestions are considered "mostly healthy" because they are lower in refined sugars, and/or also provide a good source of protein, which is an important component to keeping your hunger monster at bay. All these snacks are non-perishable, so refrigeration is not needed.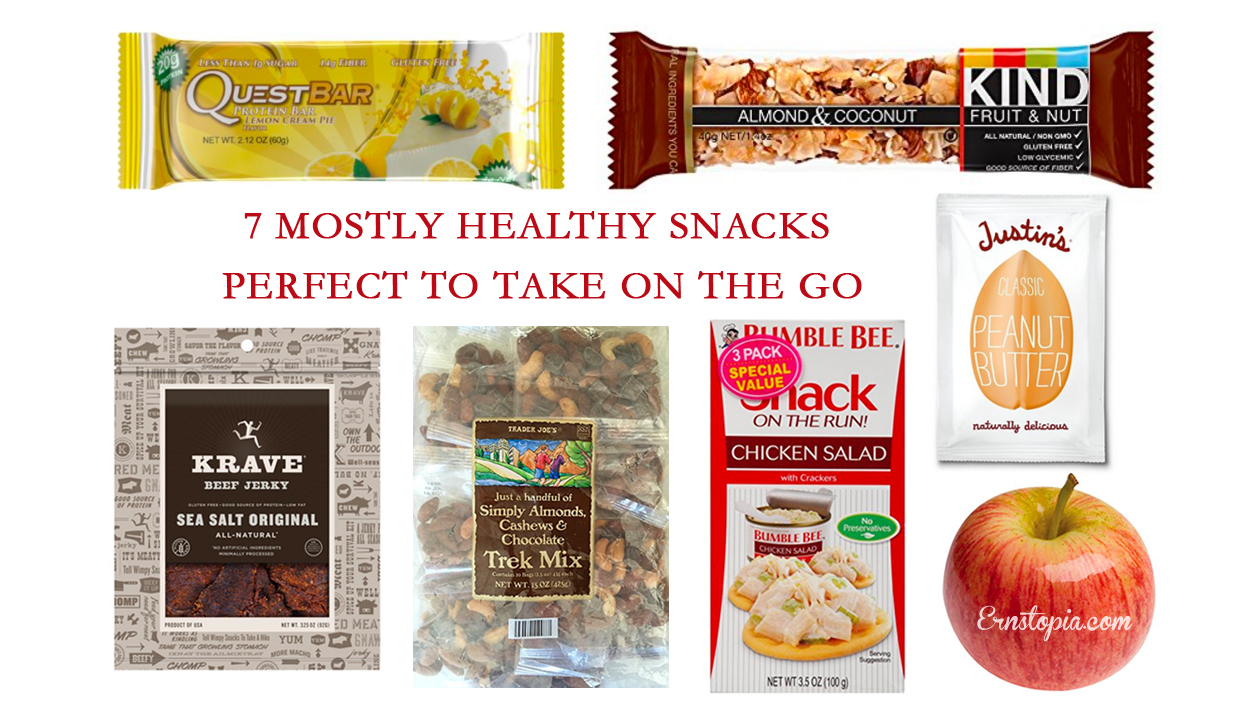 Although this list is primarily geared towards road trip snack options, these snacks are also great choices when traveling by plane if you'd rather not purchase food at the airport or from the flight attendants.
Some of our favorite kid-approved road trip snacks include:
APPLES – Apples make the perfect portable snack. They are filling, hydrating and provide your body with plenty of good fiber. Sometimes in lieu of apples we will pack individual apple sauce or fruit cups, just don't forget to also pack spoons! Baby carrots are also a good choice, but they tend to dry out when not refrigerated.
PEANUT BUTTER – Peanut butter is the perfect compliment to a juicy apple. It provides a nice salty contrast to the sweetness of an apple. These to-go packs from Justin's are great to throw in your back pack while hiking or for a quick snack on the road. There are many other brands of peanut butter to-go packs to chose from, but most of them contain sugar, so Justin's brand peanut butter packs are a better choice health-wise. Justin's also offers almond butter if you prefer.
BEEF JERKY – We love beef jerky on our hikes, but we pack it for lunches too. It's best to chose a brand that doesn't use fillers, nitrates or nitrites and isn't loaded with added sugar. It can be difficult to find a beef jerky that doesn't include those things, but there are a few out there. I like Krave brand which is not always easy to locate when you're on the road, so I purchase it ahead of time and pack in our food cooler.
PROTEIN BARS – There are lots of options here, but so many protein bars are made with soy protein which I try to avoid if at all possible. Two of my favorite options are Kind Bars and Quest Bars (be careful when buying Quest Bars to read the ingredients. Many of them contain sucralose/splenda. I only buy the ones sweetened with Stevia.) I typically by our protein bars by the box when we travel. Costco sells boxes of assorted Kind bars, but you can also find them individually at most grocery stores, including Trader Joes. Quest bars are a little less mainstream, but GNC Nutrition centers carry them and I have seen them lately at Walmart and our local Safeway stores, however as I mentioned earlier, read the labels and make sure to buy the ones sweetened with stevia. Regardless of what kind of protein bar you chose, make sure it isn't covered in chocolate which will easily melt if left in your car or backpack.
TRAIL MIX – My favorite trail mixes come from Trader Joes. They have an almond cashew mix that comes with little chunks of chocolate. We always get the individual snack packs because they are already portioned out into bags which makes them a really easy on the go snack. Beware, the chocolate will melt, so only bring these if you have a cooler to prevent them from melting. The other great choice is the individual almond snack packs, also from Trader Joes.
CHICKEN/TUNA SALAD – I put these chicken salad packs on the list, not because they are exceptionally healthy, but because they provide a decent source of protein and come conveniently packaged for easy distribution while on the road or the trail. You can find them in most grocery stores near the canned tuna for under $2, but you can also find them at the Dollar Tree for…you guessed it, $1. They aren't my favorite flavor-wise because they have that "canned meat" flavor to them, but they are perfectly fine once in a while.
Don't forget to pack your soft sided cooler on your trip. The longer you can keep your food from warming up in the warm car the better, especially if you are driving all day. We like to keep a small snack cooler in the front seat where it's nice and handy. Having a cooler allows you to bring along perishables foods such as hard boiled eggs, cheese sticks, yogurt, hummus and baby carrots. In order to keep your cooler cold, just fill all your water bottles up and place in the freezer the night before your trip. Use these frozen water bottles in the bottom of your cooler to keep your food cold and by the end of the day the ice will have thawed and you can use them for extra drinking water.