If you are planning a trip to the Whistler area, the Sea to Sky Gondola in Squamish is definitely worth checking out. Squamish is located between Vancouver and Whistler. The Sea to Sky base camp is about 2 kilometres south of Squamish, directly on the Sea to Sky Highway/Hwy 99. This fairly new attraction opened up in 2014 and has exceeded projected visitors by 40%. It's no surprise that this is such a popular destination. With so many different ways to experience Sea to Sky, this was easily one of the highlights from our trip to Whistler.
Originally we planned to do the Peak to Peak Gondola in Whistler, but some of our kids were nervous about being up so high. Since Peak to Peak is much higher, we decided to start them out with something less intimidating for their first gondola experience. Don't get me wrong, with a vertical rise of 2,790 feet, Sea to Sky is plenty high…2,900 feet above sea level to be exact!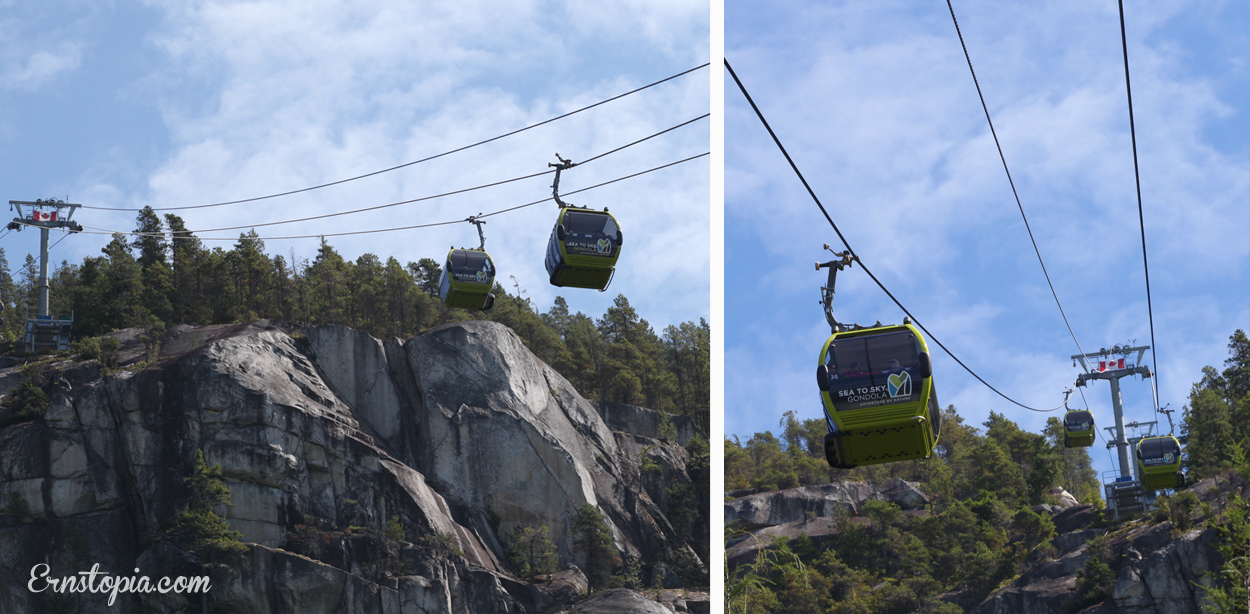 The ride to the top takes about 10 minutes and provides breathtaking views of Howe Sound, the coastal mountain range, and the famous Co-Pilot and Sky Pilot mountain peaks in the distance.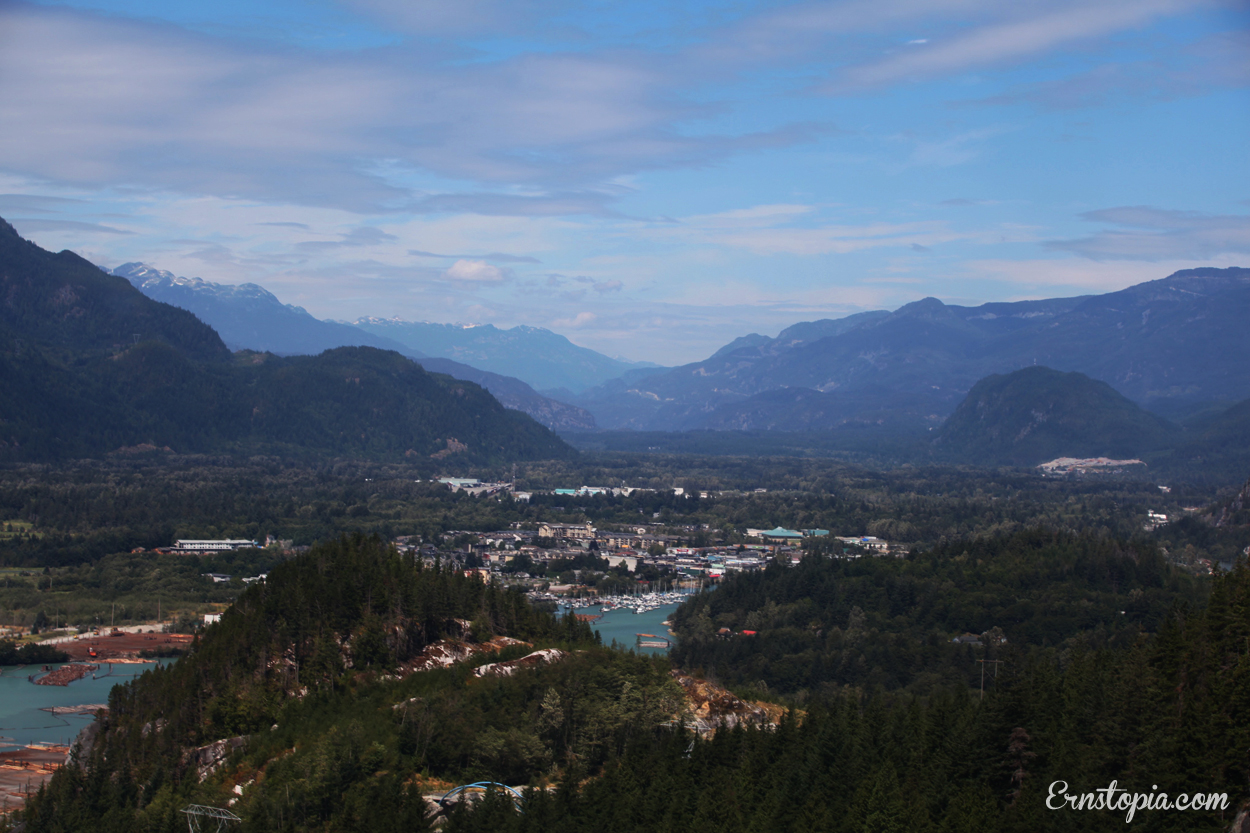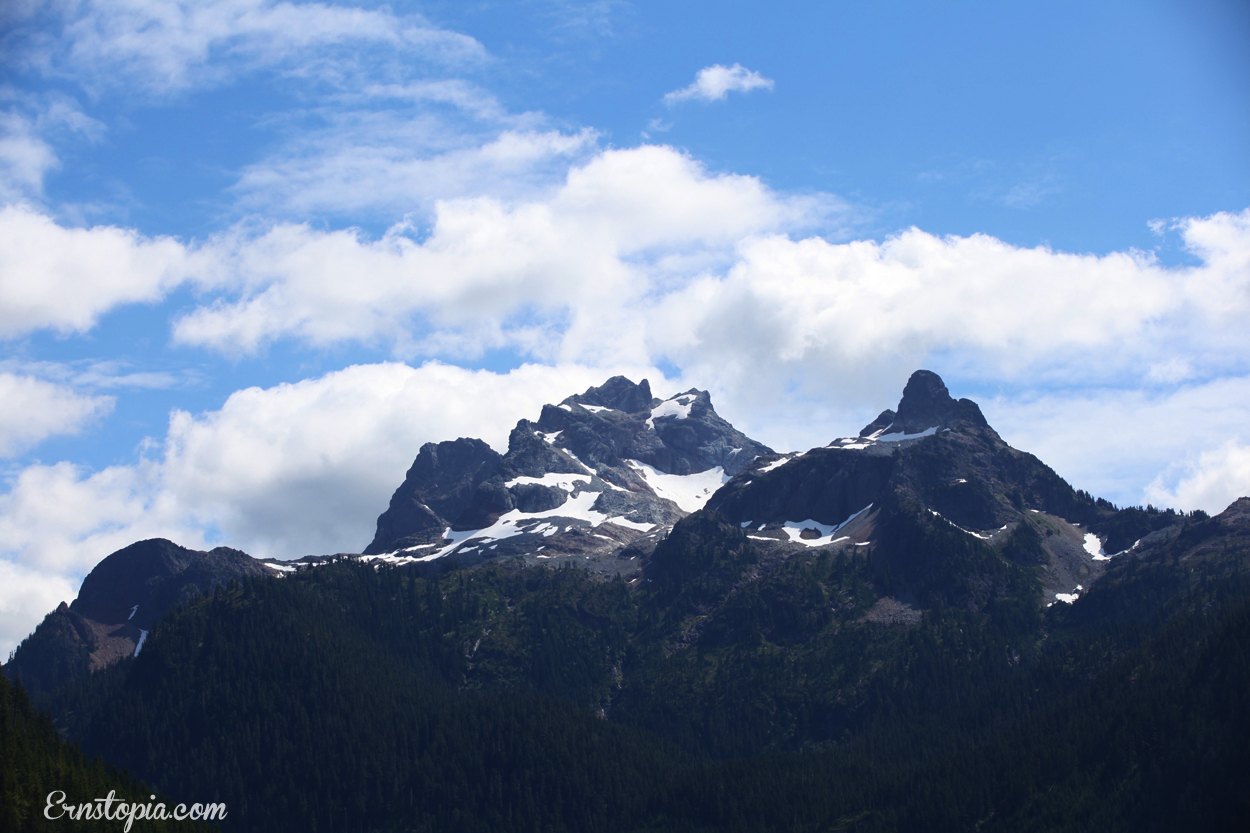 The Sky Pilot Suspension Bridge awaits after you step off the gondola and is a cool feature that the Peak to Peak Gondola doesn't offer. We (most of us) were excited to experience such an amazing adventure and we were sure to hand out praise and accolades to those in our party who were apprehensive about the heights, but crossed the suspension bridge anyway! At 100 meters (328 feet) long, this suspension bridge has amazing 360 views of the surrounding alpine mountains and the fjord thousands of feet below. The Sky Pilot bridge is very stable, but still made me a teeny tiny bit nervous when we crossed it the first time with all the crowds of people coming off the gondola crossing along with us. It does move slightly with large numbers of people walking on it, but that's all part of the adventure! Later in the day, there was hardly anyone going across and I felt so much more at ease, so keep that in mind if you have any anxiety about heights.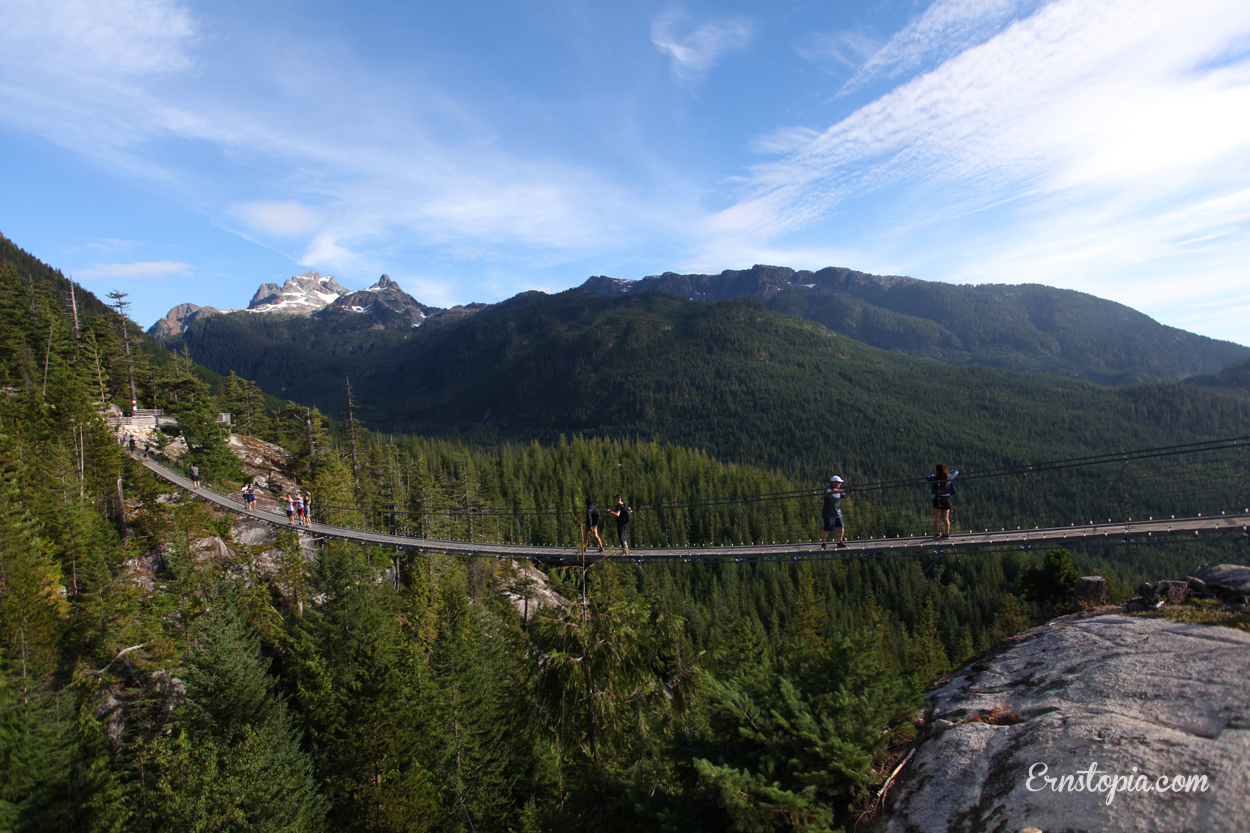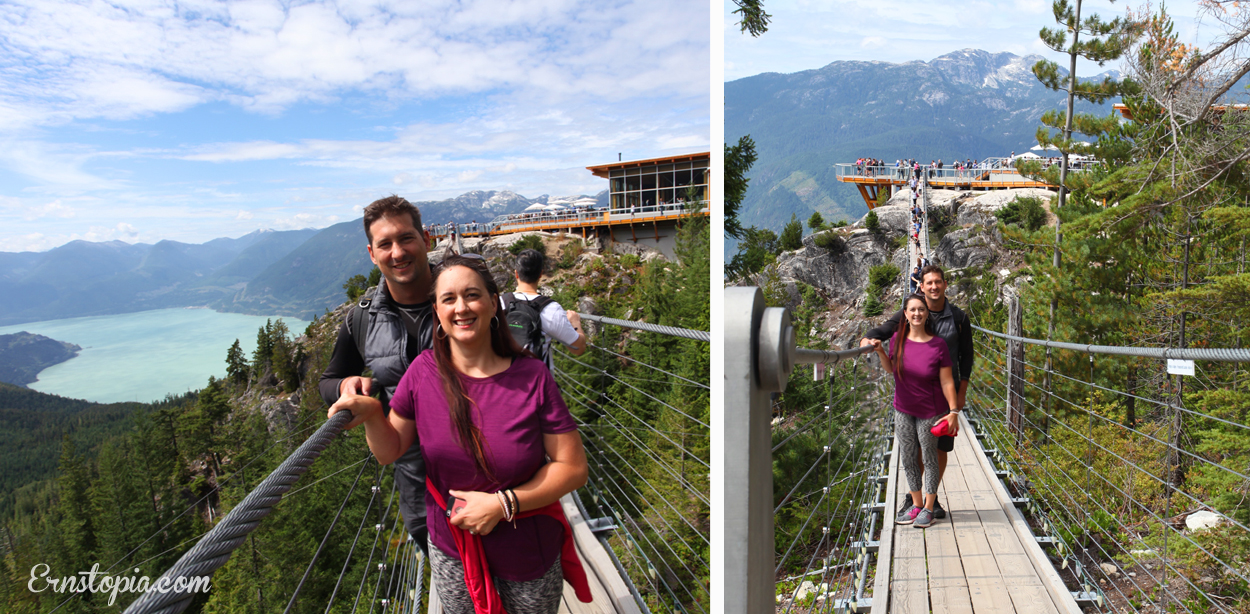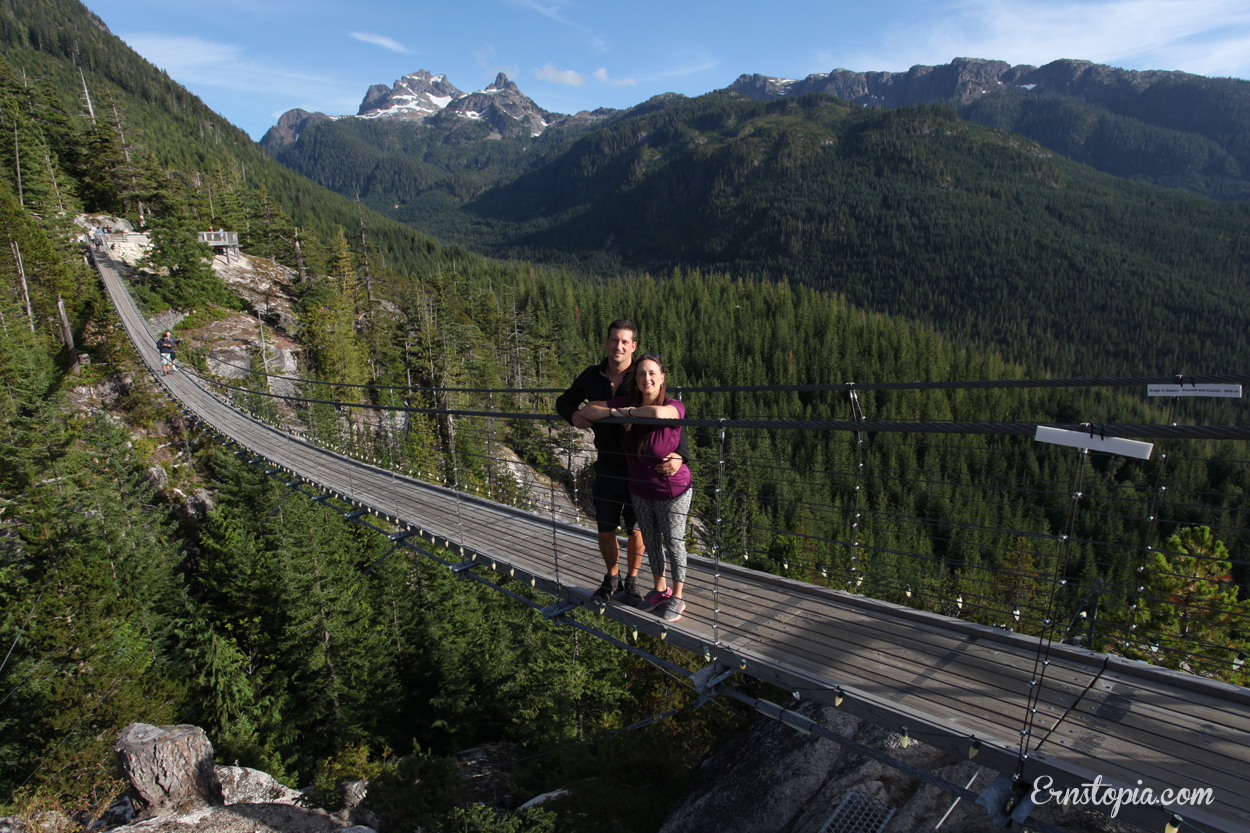 While at the top we explored the area via hiking trails. My favorite hiking trail out of the two we tried was the Panorama Trail. It was 1.6 km, but then we added an additional "lookback loop" at the end. The Panorama Trail has several areas with mountain views and includes an impressive viewing platform affording you a 360 panorama of the entire area…from Sea to Sky! I highly recommend this trail. For the most part the trail is flat and level making it suitable for most hikers.
On the other hand, Al's Habrich trail is much more difficult, with it's often very steep climbs up granite slabs, uneven terrain and in a couple extra steep spots there are even rope assists. This second hike proved to be more of a challenge than we expected, but would be great for someone looking for a really good workout…guaranteed to wear you out! (Note all of the photos below are from the Panorama Trail, I was too tired to take photos on the second hike!)
All in all a very fun day. To save money on your Sea to Sky experience, you can purchase tickets online at least 12 hours in advance and pay $2 less per ticket.