Little Essentials to Make Your Road Trip to the Desert States More Enjoyable
Prior to our recent road trip, I tried to be mindful of all the things that might come in handy for my family who would be spending a large amount of time in a very dry environment. I kept watching the forecast to see the temps for the Las Vegas, NV and St George, UT areas and they were both consistently over 100 degrees for days on end. The average temps were around 106 degrees. As a native Oregonian, our summers are very comfortable, usually in the mid 80's. We typically top out at 100 degrees, but it only lasts for a couple days at best. In the back of my head, I recalled the time in 2011 when we were visiting Philly and NYC during a horribly humid heatwave. Our kids were not having it and our youngest was melting down on the regular. Having never experienced this kind of dry desert heat, I was anticipating all the complaining I would hear from our kids as we traveled through the National Parks in Utah. Fortunately, with a little planning and foresight, they really did quite well and adjusted to the heat beautifully.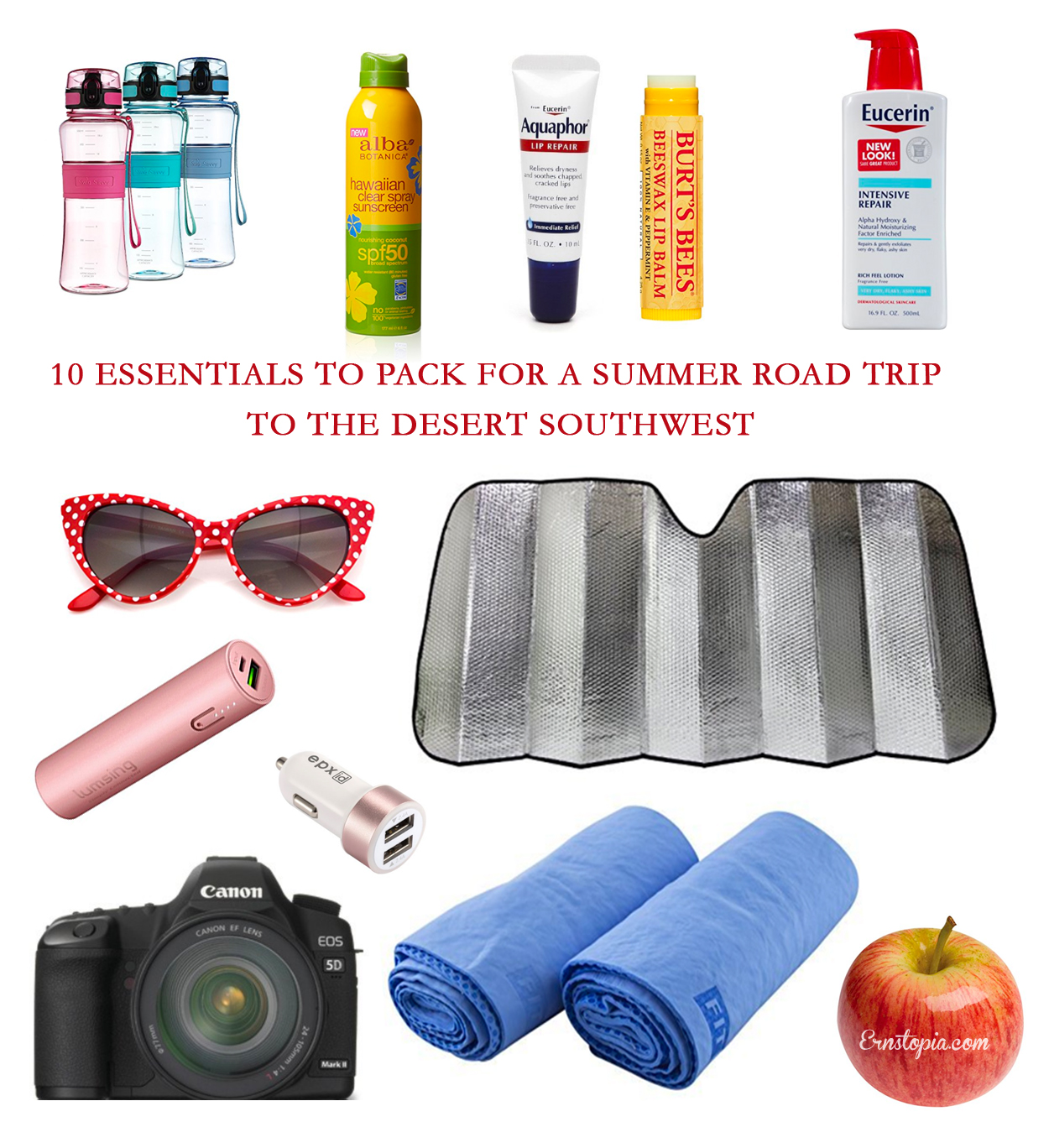 Water – It goes without saying that you should drink water when it's hot out, but I had no idea we would become dehydrated so quickly. When we had plans to visit a National Park or other location where we would be spending time outside in the heat exploring and hiking, we made sure to fill up our water bottles before heading out. Luckily, the majority of the parks provided water bottle filling stations and encouraged visitors to drink lots of water. Travel tip: Pack twice as much water as you think you will need. We used both personal water bottles and gallon jugs.
Sunscreen – If you're going to be outside in the summer it's a good idea to protect your skin with sunscreen. Yes this is pretty obvious, but for someone like me who lives in a state where the cloudy days out number the sunny ones, it's worth mentioning. There are many brands and SPFs to choose from. I prefer to protect my skin from the sun without all the harmful chemicals found in most sunscreens. Alba is a brand that I have been switching over to because it contains no parabens, or phthalates. Depending on your skin type you may need extra SPF protection. We typically bring along SPF 30 and 45.
Lip Balm – This is one I didn't think of until it was too late. I caught myself constantly licking my lips and it didn't take long for them to become horribly chapped. Lip balm to the rescue! Normally I would have just used something like Burt's Bees lip balm, but by the time we stopped off at a store, my lips were really chapped, so I also purchased Aquaphor which really soothed my dry, chapped lips. Both of these were used continuously for the remainder our our trip.
Window Reflector (for the car) – This was a life saver on more than one occasion. Whether our car was parked at the hotel or at the National Parks we were almost always in the direct sun. Those foldable silver reflectors significantly reduced the temperature inside the car and made it much more comfortable to step inside. Another use that I didn't plan on was to use the reflector to block the sun coming into my side of the window while my husband was driving. On our long driving days it was inevitable that we would be driving into the sun as it was setting. Having the reflector to block the glaring sun coming through the passenger side of the window made it much more comfortable for this native Oregonian who just isn't used to all this bright sun! The prices on these window shades range from $8-20+ but I just chose the least expensive one I could find.
Cooling Towels – These little blue towels from Fit Spirit were one of the best pre-trip purchases. They allowed us to step out and enjoy the sites even when the afternoon sun was at it's hottest. We explored Canyonlands, Arches and Red Rock during the hot part of the day and wore our towels to keep us cool. My son, who is naturally warmer than most of us, wouldn't have made it without his cooling towel. The one time it didn't work as well was when we were walking across the Hoover Dam and our towels dried out from the heat reflecting off the concrete. Luckily, about half way across the dam there was a restroom where we all stopped to soak our cooling towels again. When dried, these cooling towels get really stiff, so once we were back at our hotel, we re-wetted our towels and stored them rolled up in a ziplock bag. This keeps them pliable until the next use. There are quite a few varieties and sizes of cooling towels with varying reviews on Amazon. I chose the Fit Spirit brand because they got good reviews and were priced around $7 for a pack of two towels.
Camera – Since I'm a photographer, I have a pretty strong view on this vacation essential. Naturally my Canon 5D goes with me everywhere I go, especially on vacation. I would feel completely lost (and totally stressed) without it! We don't spend a lot on souvenirs because I have so many vacation photos to remember our trips by. I do also use my iPhone camera for posting to social media, but the quality on my phone just does not compare to my DSLR. If my only intent was to share my travel images on-line, then I suppose the cell images would be enough, but my end goal is to print images to display in our home as well as in travel books…and to be honest, cell phone images just don't meet my expectations. I know owning a professional camera is not in everyone's budget, but I would highly recommend bringing some kind of dedicated camera when you travel, whether it's a point-and-shoot or a DSLR, either one would yield better results than your phone camera. If you own a DSLR, I would highly recommend purchasing a polarizing filter for any outdoor photography, especially in the SW region. This filter screws onto the front of your lens

and helps to enhance skies and reduces reflections or glare on surfaces such as lakes, oceans, etc. Side note: If you do bring your DSLR into the dry desert areas, be sure to have it professionally cleaned upon your return. If you are like me and change your lenses frequently, lots of tiny dust and sand particles will make their way inside your camera and it's always a good practice to clean it out in order to prevent stray dust particles from showing up on your images.

Moisturizing Lotion -The hotels we visited on our SW desert trip all provided us with those little 3 oz lotion containers, but we found in this dry climate, for 5 people, 3 oz was definitely not enough lotion. We quickly ran out and purchasing more lotion became a priority. I like the Eucerin lotion for really dry skin, otherwise I just find one that smells good! I also like this ultra light spray-on lotion by YES to Coconut because well, coconuts remind me of vacation! Also something I just started using this summer are these hydrating wipes also from YES to coconut. Great for removing makeup, cleaning up sticky fingers or refreshing your skin after a hike.
Sunglasses – Any vacation where sunglasses aren't needed isn't really a vacation is it? I look forward to sunny destinations when we travel, but visiting the desert in the summer without sunglasses is not advised. On this trip I brought a couple pair just to have on hand in case one pair got misplaced. These vintage inspired polkadot sunglasses were a fun accessory for the family photo shoot we did in Nevada.
Car Charger / Portable Charger – These items are not specific to a road trip in the SW region, but it goes without saying that car chargers are a must have for keeping your phones and tablets operational while in the car for hours. I chose a charger with two USB ports so more than one device could be charging at once. Another useful accessory to bring along is a portable power bank battery charger. I discovered how useful this charger was during our last trip to Disneyland. We were at the park all day so having a way to charge our phones without plugging them into an outlet was crucial for being able to access the Disneyland wait times app. This almost seems like a non-essential, but I was surprised how many times we did end up using our power bank to charge our phones.
Snacks – There are lots of portable snack options for traveling in your car, but some foods are better than others when it comes to the desert heat. Obviously you want to avoid things that need refrigeration or foods that could melt. Here is a link to a blog post with details about our favorite on-the-go-snacks!