How to Make Homemade Vanilla
Can you keep a secret? I can…but it's more fun to just tell someone a secret. Maybe just one person. Well this year, I zipped my lips and didn't tell a soul about my top secret Christmas project. Now that Christmas is over, it's no longer top secret and I can spill the beans…vanilla beans, get it?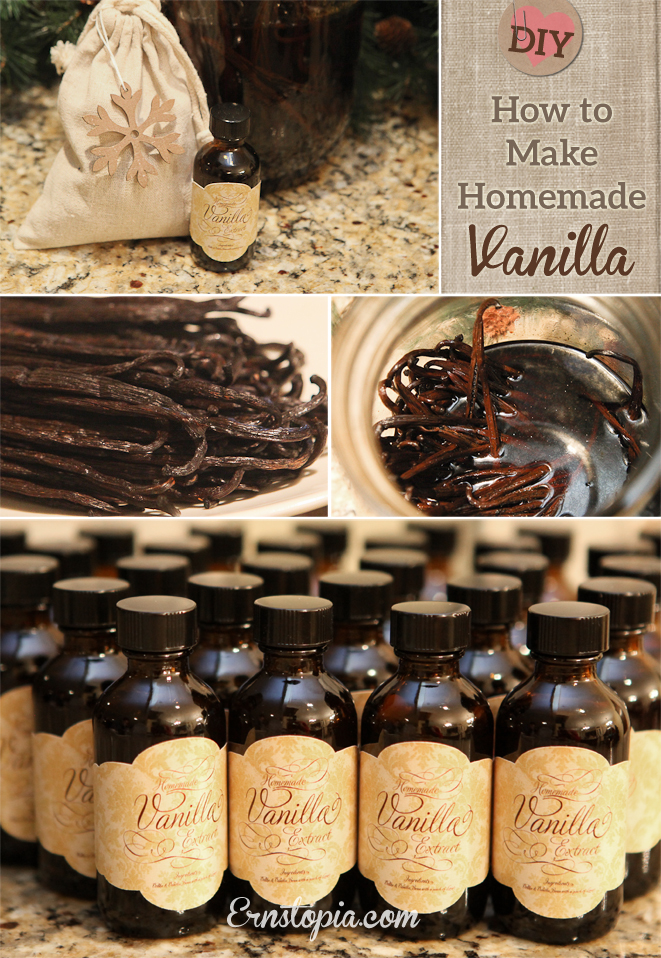 I love to give homemade gifts and this year I somehow managed to plan ahead early enough that I actually pulled it off! Years ago I read up on making vanilla extract. It seemed pretty straight forward and so I went ahead and ordered a massive amount of Bourbon Madagascar Vanilla Beans from Olive Nation who just happens to offer high quality vanilla beans at a MUCH better price than you will find at your local grocery store. When they arrived I set them in my pantry for some day in the future when I would start my secret vanilla project. Fast forward two years later when I had to empty out the pantry during our kitchen remodel and what did I find? Yeah, I was pretty excited because after our remodel, homemade vanilla (with beans I already purchased) was about all I could afford to give for gifts.
If you would like to give it a try, it's really easy, just make sure you get started about 4-5 months in advance. All you will need to get started is listed below:
A gallon jar
One gallon of Vodka
Clean kitchen shears
80 Madagascar Vanilla Beans I ordered 16 oz (one pound)
*If you do not already have a miniature funnel, you will need one to fill the jars.

Step-By-Step
Wash and dry your jar.

Using your kitchen shears, cut a long slit, lengthwise on the vanilla bean/pod, leaving about 1/2 inch at the top uncut so it stays together. This step is important because all the vanilla seeds inside the pod need to be exposed to the vodka to give it a more intese vanilla flavor.

Place all the sliced vanilla pods into the gallon jar
Pour vodka over the vanilla pods and put the lid on the jar.
Shake it up a bit and store in a dark place. I just kept mine in the pantry.
Over the next 4-5 months shake the jar occasionally. Before you know it your vanilla will be done!
Packaging Note: This is my favorite part because now you get to make it look pretty! I did a little research and found that it's best to use amber (dark brown) glass bottles to preserve the vanilla extract. After searching on line, I found a place in Seattle called Specialty Bottle that had the best price for 2 oz amber glass bottles. I actually priced out several bottle companies and some were initially less money, but once I factored in the shipping, Specialty Bottle was the better deal. Lucky for me Seattle is relatively close, so my bottles arrived in record time!
Once I purchased a mini funnel I was ready to fill the bottles. I ordered 30 2oz bottles and I could have easily filled 5 or 6 more.
The last and best step is the label! Creating the label was something I was looking forward to from the very moment I decided to make the vanilla. However, I had an extra busy fall portrait season and never had a chance to work on a label. Instead, I was completely swamped designing Christmas cards for my portait clients, so with much hesitation I had to let it go. Fortunately, I found an elegant label that I just loved, so that's what I used. It's lovely isn't it?