Create an Invitation that will Really Excite Your Guests
Everyone loves getting letters in the mail, but these days it's a rare occurence for sure. What little boy wouldn't be thrilled to get his own message in a bottle delivered right in his mailbox? Over the years I have done several variations of this invitation from mermaid parties, luau dinners, pirate parties and now a surfing party. It always draws attention and it always gets the guests excited for the upcoming event. Believe it or not, these invitations in a bottle can actually go through the mail. I add just under 1/4 cup of sand to the bottom of the bottle and when they were weighed at the post office, the average cost was about $2.55 for first class mail. You could omit the sand to save some money, but since I wasn't sending out a large amount, I opted to keep the sand in because it makes a bigger impact!
The actual invitation that you see rolled up inside the bottle can be just as fun as the packaging. Since this party theme was all about s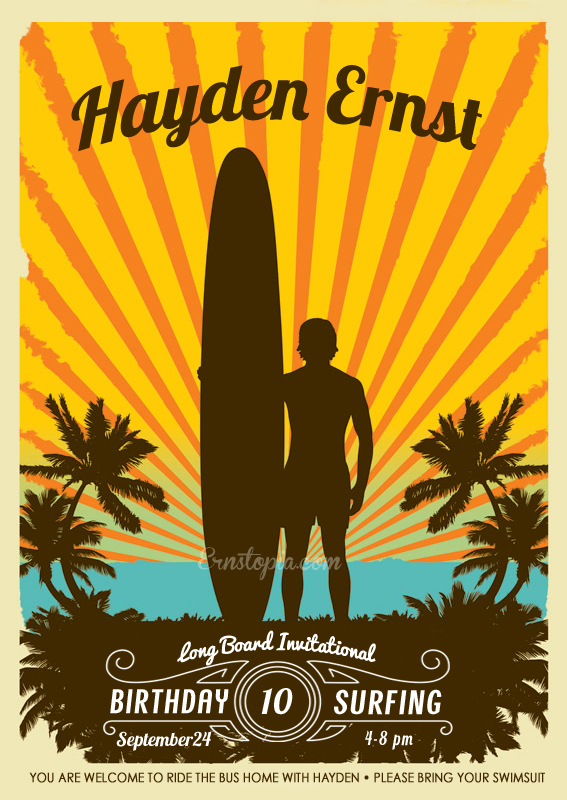 urfing, I wanted the invitation to feel much like a vintage surfing poster.
These mini posters were rolled around a pencil (to get small enough to fit through the mouth of the jar) were tied with coordinating baker's twine and ready to go.
In the past I've also included mini shells and cocktail umbrellas inside the bottle as well. You can also change up the look with colored sand. The dollar store and Michaels both sell packages of colored sand, but the dollar store has fewer colors.
For this type of unique invitation it may be wise to give your guests a heads-up so they don't think someone put their trash in the mailbox…or you can just let it be a surprise and wait for their reactions!
Either way, these are sure to be a hit and will get everyone in the spirit of your upcoming party.
Aloha, Surfs Up! Enjoy!