Get the Look for Less: My Easter Table
Every few months I look forward to changing up my seasonal decor. Back in February I started plotting and planning how I was going to set up my Easter table this year. Among all the fresh spring decor being put out in the stores, I saw adorable bunny plates in a couple different styles. I didn't realize I wanted bunny plates until this point, but they seemed to be everywhere…and so cute! I looked online at Pier One, Pottery Barn, Williams-Sonoma, Amazon etc and decided I liked the plates at Pier One the best…until one day I came across THE perfect green toile bunny plates on Instagram. I could hardly believe how perfect they were!
In the past I set up my Easter table with the green cabbage leaf plates I had collected over the years. Thanks to discount stores like Ross and Tuesday Morning, I now have a pretty complete collection of these fun spring green plates in all sizes, with bowls and serving platters to match. I typically just stack the cabbage salad plate on the cabbage dinner plate, but I wanted a little more variation this year, so I set out on a mission to get my very own set of bunny plates. Rumor had it, they were at HomeGoods!
Naturally I went to HomeGoods right away, but soon discovered my local store didn't have any of these plates for sale. So sad. They did however have the most lovely lace trimmed linen napkins at a fraction of the cost I saw at Pier One. I was so excited…until I realized they only had 4. I would need 8-10 for my table, but I bought them anyway!
I went back a month later to try and add more napkins, but they didn't have any in the linen color, so I kept looking around the store. It was still pretty early in the day and the employees were busy re-stocking the shelves with the new shipments. To my great surprise, on one of the re-stocking carts was an entire set of 8 green toile bunny plates!!! Yes, THE PLATES! I was SO excited. Do you ever go shopping and feel like the shopping gods are in your favor? Like the completely random, yet very specific thing that you have your heart set on just reveals itself to you in the most undeniable way…almost begging for you to take them home. That what I'm talking about. It was destiny! A match made in Easter bunny plate heaven! They were just meant to be mine, right?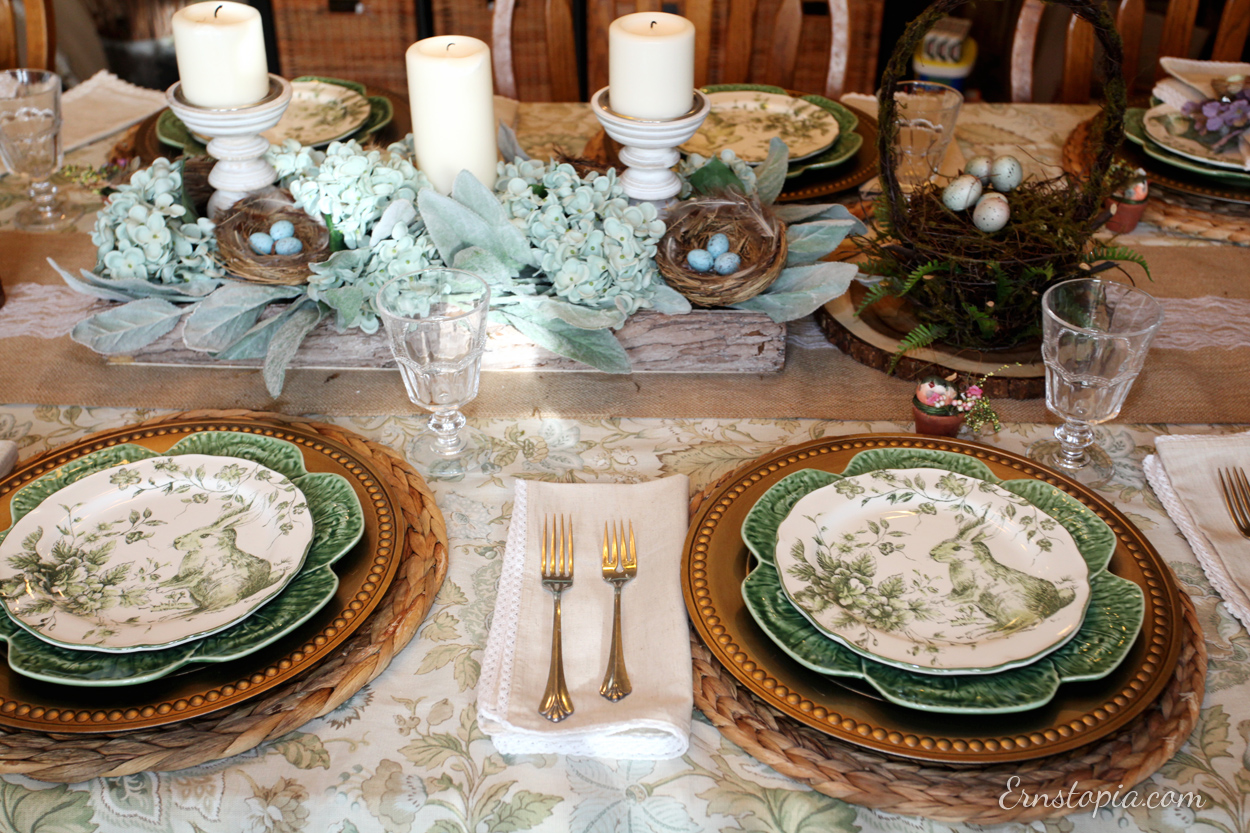 Okay, enough about my plates already. Here is a little break-down of how you can shop around and get the best possible prices for your spring table.
Get the Look for Less: My Very Unscientific Method
Search online, on Instagram or on Pinterest for inspiration. You need a general idea of what you want your table to look like when it's all complete. I find that if you follow current trends, it will be easier to find what you are looking for in stores because more places will be carrying the latest popular looks.
Look around your house and start collecting things you already have that fit in with the vision you have for your table-scape. Shop your own house before spending money elsewhere.
Window shop online to get a reasonable idea of what things cost and where they are sold. You can start with Amazon and search around other more specific stores that more closely match your style. I find after a couple Google searches, I have a pretty good idea of how things are priced and how much I am willing to pay.
Pop into your local discount stores from time to time to see what they have in stock. Some of my favorites include HomeGoods, Marshals, Ross, TJMax, Tuesday Morning and sometimes even Goodwill. I usually do this when I am already out running errands. It's like a little pick-me-up treat after I'm done with the groceries or other weekly errands. Most of these discount stores change their stock frequently, so if they don't have it one week, check back in another 2-3 weeks.
Can you tell the difference? These napkins, while not identical are a pretty good match and give the same look at a fraction of the cost!
*Certain items like the plates weren't listed anywhere online except for Ebay (and Replacements Inc which generally is overpriced)
My decor in the dining room tends to be a mix of French Country and Rustic Elegance. It features lots of neutral burlap, linen and soft natural brown tones with a bit of blue and green mixed in for spring color. I like to use rustic elements like wood slabs and water hyacinth place mats to add texture and balance out all the dishes. In order to create this spring table-scape I used quite a few things I already had on hand. I already had the table cloth, cabbage plates and silverware. The gold chargers were purchased just before Christmas and I found them on clearance at Walmart for only one dollar each! They are actually not as shiny gold as they appear in the photo and look great with Christmas, but in a perfect world I would chose a matte white charger for Easter. I love the beaded edge on these, and at one dollar each I was able to purchase enough for 10 place settings! As I mentioned before, I found the lace trimmed napkins at HomeGoods in a pack of 4 for $7.99, a real bargain when you consider similar napkins at Pier One's were just under $5 per napkin. (FYI Right now Pier One's linens are on sale, so their napkins would only be $3.68!) I did end up finding a couple more napkin sets at HomeGoods, so now I'm all ready to go! I have been collecting the water glasses from Craft Warehouse for a while, but when I went in recently they were ringing up at just $2, so I purchased the remaining glasses for my table. I love how the beaded scallop design in the glass compliments the place setting! The last item I added was the water hyacinth 15″ place mats. I had been window shopping online and these were coming up for anywhere between $5-8 at places like Bed Bath and Beyond, Ikea, Pier One and World Market. Then one day when I was looking around at Ross, there was a package of four place mats for $7.99, making them only $2 each — total score! As you can see, it may take some searching, but you can really find some good deals out there if you know what you're looking for.
If you are like me, looking for a good deal can be really rewarding. By researching prices ahead of time you can be confident when you find a really great deal. I hope you enjoy discovering new ways to save money while dressing up the table for your next gathering…Happy Easter!