Anytime you invest in a remodel it is vital that you address the problem areas and come up with workable solutions. This was where we spent the bulk of our time in the first 6 months prior to demolition. We spent a long time up front developing a plan that addressed these issues and solved our problems.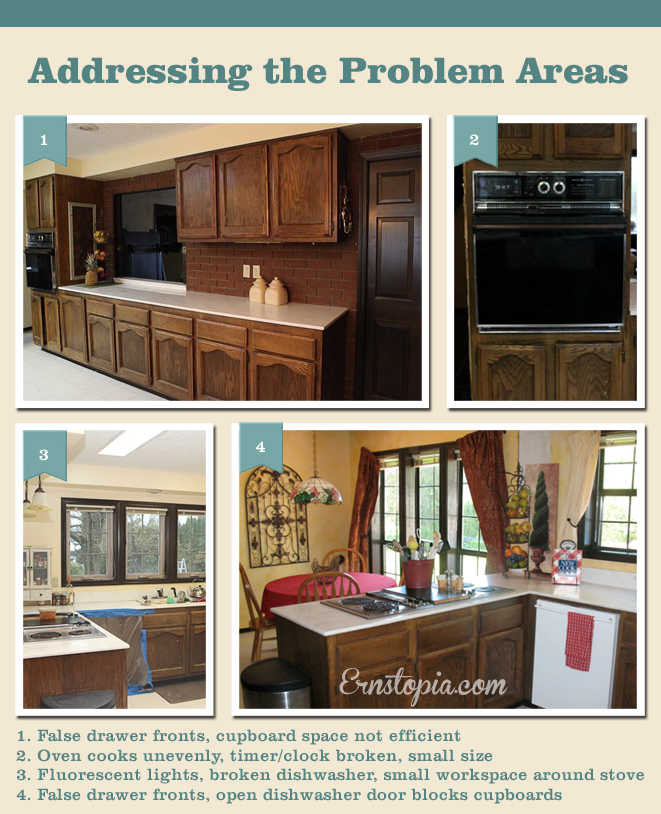 Okay, so I just need to get this out there before I go any further. I feel conflicted about what I'm about to say. On one hand, this is a perfectly great kitchen, it has a nice long counter, adequate storage and serves my family well. I should be perfectly happy, right?…but then there's the other hand. The kind of selfish, perfectionist side of me that wants things to look and function differently. This was a lovely kitchen 30 years ago when it was built, but not only is it in desperate need of a face lift, many, well all of the appliances are only kind-of still working. In my head I am constantly wanting to rip out that brick. I am frustrated every time I go to open several of the drawers and realize they are just drawer fronts and don't actually open. I am annoyed at the 1980's small-ish wall oven that likes to cook things towards the back hotter than the front. I feel like there is not nearly enough space near the stove to properly prepare a meal, so I use the two burners that no longer work as "counter space." Yes, I realize these are all first world problems and I feel completely annoying complaining, but none the less, I do spend a lot of time in my kitchen and was not sad when we made the decision to remodel this space.
Beyond cosmetics changes, here are the items we wanted to address:
False drawer fronts. Don't like them. Don't need them.
Cupboards that were not an efficient use of space. There is a lot of wasted dead space where things would get shoved towards the back of the cupbords. It is hard to get to without removing all of the items in the front.
Small area around stove not conducive for food prep.
Oven cooks unevenly.
Half of the stove burners didn't work.
Primary source of lighting was from outdated fluorescent lights.
Sink enamel was worn and stained.

Pocket doors constantly coming of track.

Accordion/bi-fold pantry door difficult to keep closed.
Need space for garbage and recycling
Open dishwasher door blocked the cupboards making unloading dishwasher cumbersome.
Not enough drawer or cupboard space to store spices used for cooking.
Oh and then there is the dishwasher which leaked and caused extensive water damage!