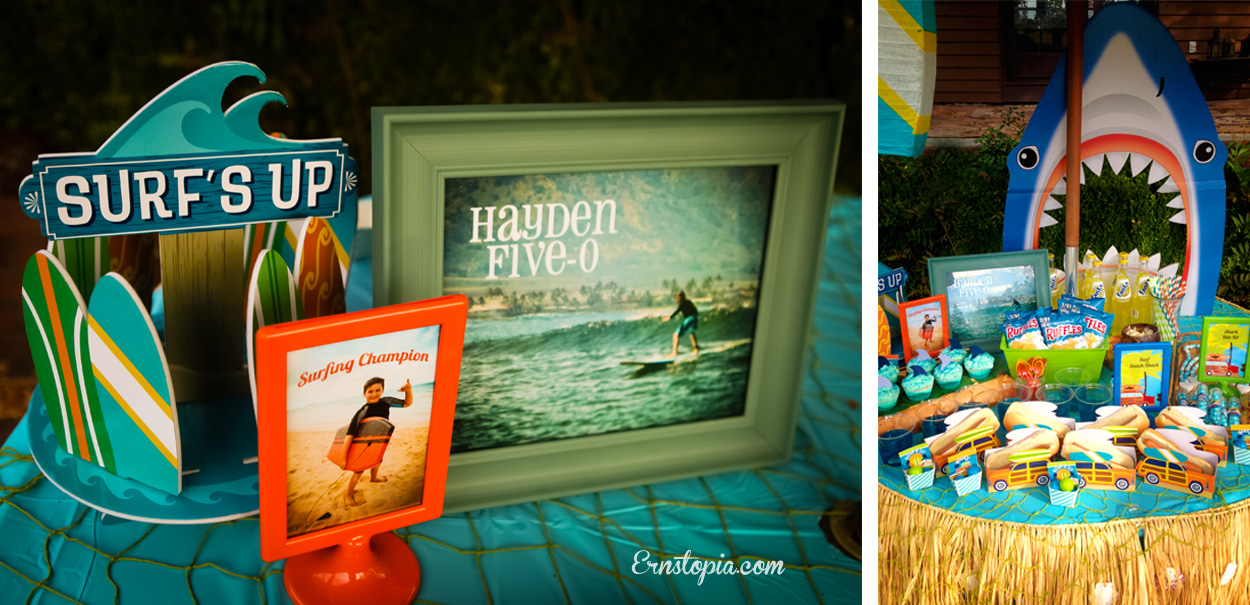 That moment when you overhear one of the party guests tell his mom "Can I stay longer, I'm having the time of my life!!" Three hours into the party, I was feeling pretty tired and just as I was starting to lose steam, his comment was just the thing I needed to hear to let me know it was all worth it!
This Surfing Party was a fun theme for my son who just discovered surfing during our spring break trip to the North Shore of Oahu, HI. What a fun adventure! I couldn't believe my eyes when my little nine-year-old boy got up on his first try. It was the kind of moment that takes your breath away as a mom…so proud! After his first lesson, he was hooked and even told us he wanted to move to Hawaii someday so he could surf all the time!
In order to get the party started right, I sent out these fun messages-in-a-bottle that included a retro-styled surfing poster invitation.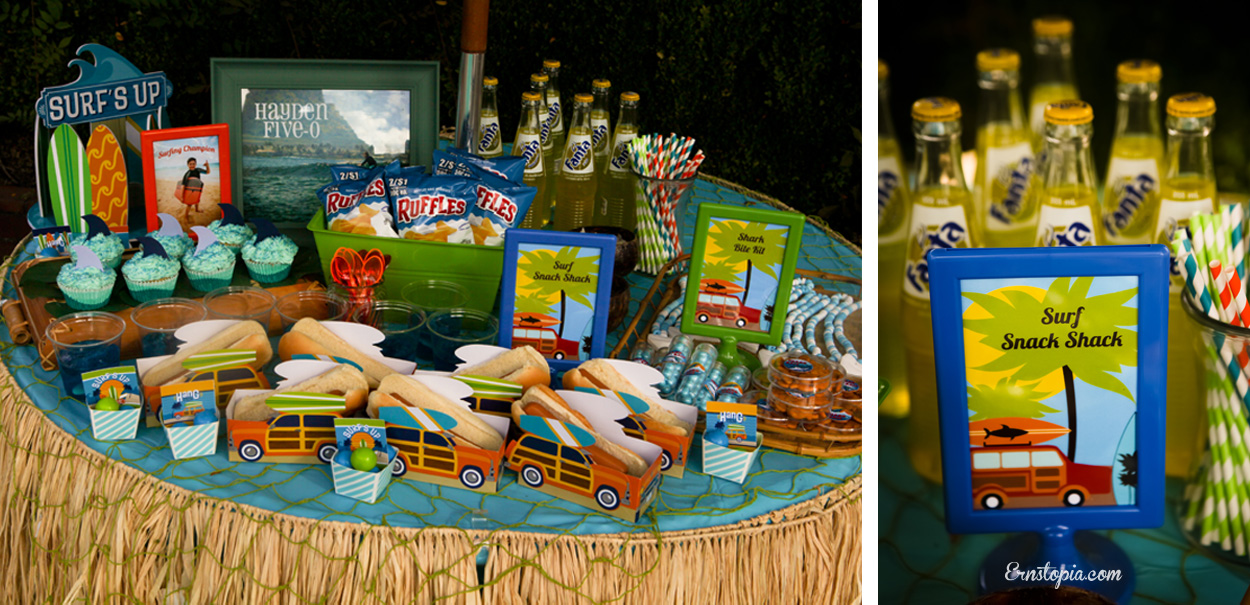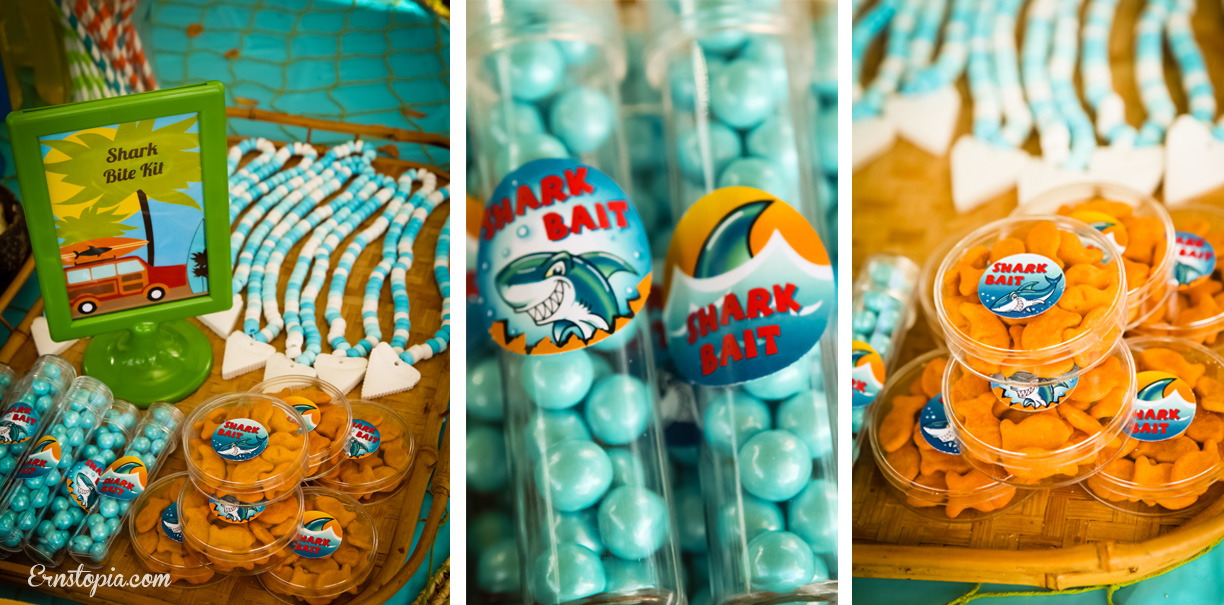 The majority of my party decor came from Oriental Trading Company. I've been purchasing party supplies at this site for over 12 years and their selection just keeps getting better! This time I found these fun plastic tubes and petri dishes that I filled with chocolate candies and goldfish crackers and turned them into a shark bite kit for the guests. Oriental Trading even had shark's tooth candy necklaces which the boys absolutely loved!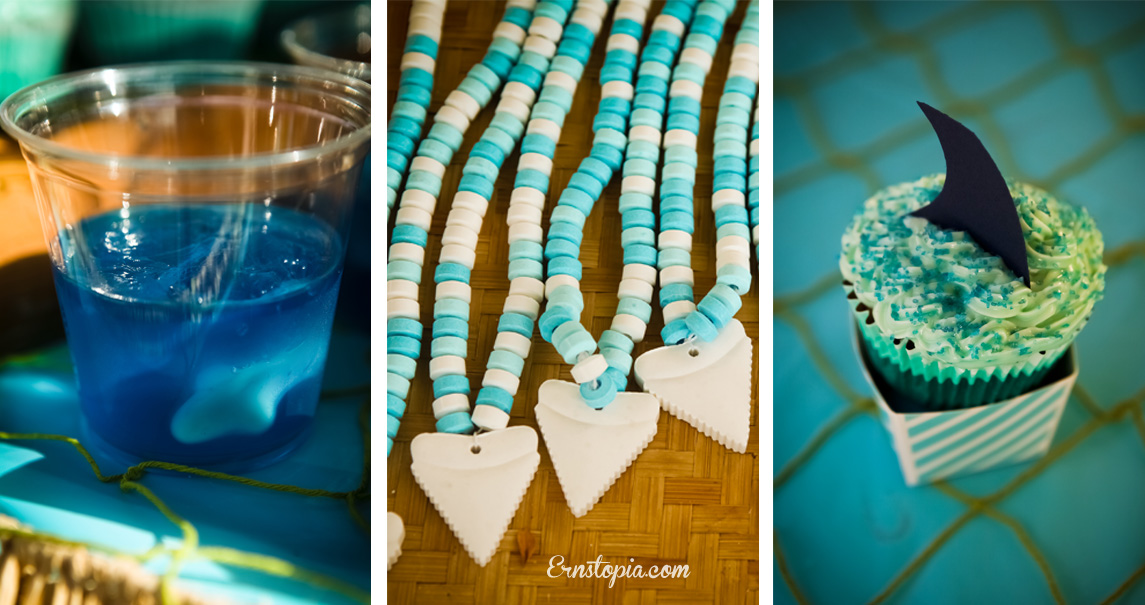 What's a surfing party without a little shark attack snack? When the kids arrived they were pretty hungry, so I served them a quick shark-infested jello snack before they jumped into the pool. These fun shark's tooth necklaces were a hit and were included in their shark-bite kit party favors. Of course, the shark's final appearance was as part of the cupcakes served at the end. These cupcakes were made with Pamela's gluten free cake mix
to which I added Enjoy Life Semi Sweet Chocolate Mini Chips
sprinkled inside. To my surprise, our local grocery store started carrying lactose free cream cheese, so I was also able to make cream cheese frosting to top off the cupcakes!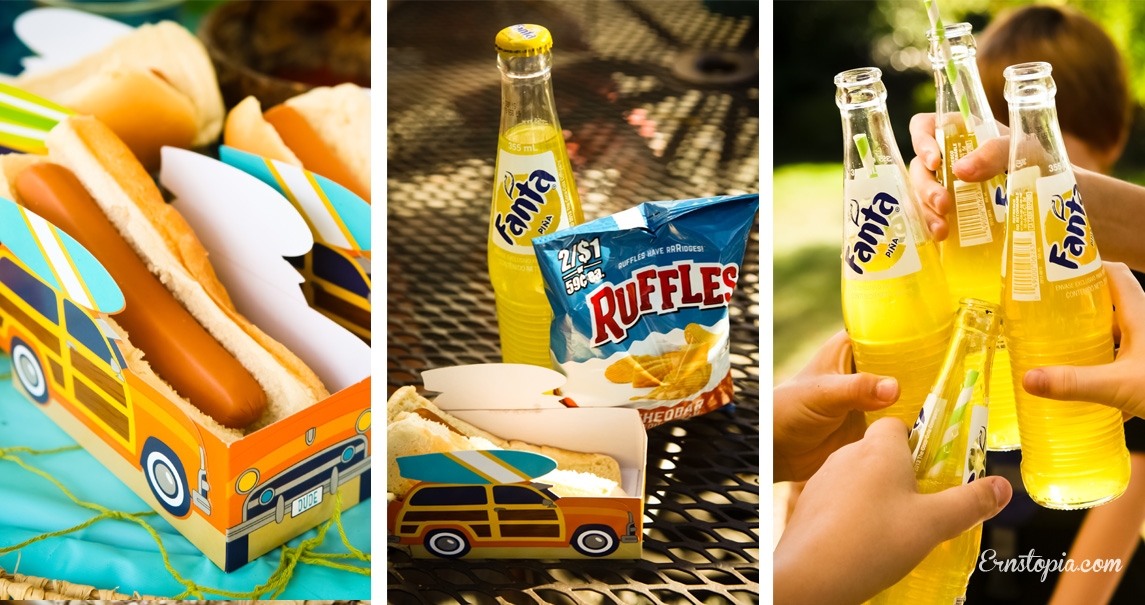 One of my favorite party details were these surfing wagon shaped boxes I purchased from Oriental Trading. I didn't really have a plan for them when I bought them, but they were so cool I just knew I would be able to work them into the surfing party! As you can see, they make the perfect little holders for the hot dogs we served! I was so thankful to have them and they are much more interesting than paper plates dontcha think?
The boys spent most of the time in the pool splashing and swimming…good clean fun! Later in the evening we all warmed up with a bonfire and had a S'mores roast. I'd say it was the perfect way to close up the pool and say good-bye to summer!
This post was featured on the Bellenza party website for a Surfing themed birthday party feature! Check it out!